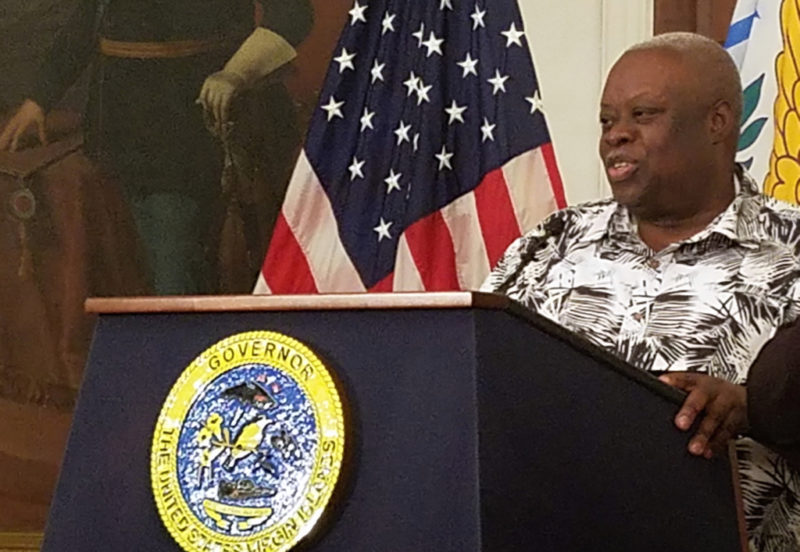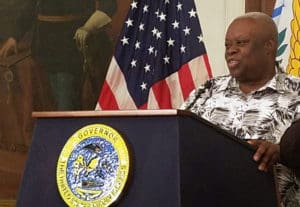 Gov. Kenneth Mapp said he wants the Legislature to approve legislation changing employee insurance contribution levels and asserted it is "untrue" that Cigna demands the employee/employer shares be left unchanged.
Mapp addressed the issue Friday at his Government House news conference.
Hanging in the balance is roughly $21 million the government does not have for insurance premiums.
A volunteer board of government retirees and employees called the Government Employee Services Commission negotiates the insurance contract with the major insurers.
Oct. 13, GESC Chair Beverly Joseph told senators that Cigna had wanted a 15.8 percent increase in the main insurance plan for active government employees but GESC had persuaded them to reduce that to nine percent and then to reduce it more.
"Our consultant further negotiated with Cigna to reduce the increase even further to plus five percent if the government agreed not to change the existing contribution structure and maintain the current 65 paid by the government and 35 percent paid by the employees and retirees," Joseph said.
This seemed to suggest Cigna insisted on harming its own finances solely to benefit V.I. government employees, which appears contrary to its fiduciary duty to maximize profits to its shareholders. The V.I. government's internal allocation of the cost does not directly affect Cigna's revenues. But increasing the proportion that government employees pay is perennially unpopular among government employees. The GESC currently has five members, four of whom represent active and retired government employees.
In August, Gov. Kenneth Mapp sent a bill to the Senate changing the formula for premiums for active government employees to a 60-40 split and for retirees who are not yet eligible for Medicare to a 50-50 split. It would also have government retirees who get Medicare pay for their own supplemental insurance.
Reached for comment on whether Cigna actually made that demand, Cigna representative Holly Fussell provided the following statement for the company:
"Cigna is proud to support recovery efforts in the USVI with financial donations through the American Red Cross and by providing our team members and community in St. Thomas with much-needed supplies. We are working with the USVI government to ensure continued service to government employees and their families and to continue providing quality health coverage at an affordable cost, as we have for several years."
When asked again for an answer to the question of whether Cigna actually insisted on keeping the employer/employee proportion the same, Fussell responded "This is the only info I have to share."
At his Friday news conference, Mapp was asked for comment about Joseph's assertion and Cigna declining to confirm or deny the statement.
"Well, because it is not true," Mapp said.
Mapp did not criticize Joseph or the GESC and credited both the GESC and Sen. Kurt Vialet for negotiating a smaller increase in rates with Cigna. But he discounted the idea that Cigna would make such a condition.
"Now when it comes to how we share the formula between the employees and the employers, whether it is the government or a private company, the health insurance company has no jurisdiction to say to anyone this is how much you must pay and this is how much the next person will pay," Mapp said.
The last premium increase was paid by the government and "we could not eat another amount," the governor continued, saying the increased bill to the government prompted him to propose legislation changing the proportion.
"But … Cigna could not establish any condition for paying $168 million" for an annual premium, Mapp said.
"You can't condition me on that size check. You just give me health insurance which is what I am buying. … What the Legislature and the employees of the government of the Virgin Islands decide how that share is going to be done that is our business," he said.
Asked if the Legislature should vote to enact his proposed change in the proportional share of payments, Mapp said "of course they should approve it."
"They should approve it because it is a part of our budget balance issues. It's the reality of having limited revenues and trying to survive and again we are doing everything that we can not to have to lay people off or to reduce the workforce or to cut salaries. And having that modicum of share of the increase of the premium that is negligible, we find to be reasonable as we move forward, keeping everybody on the payroll," he continued.
The governor said the current plan is very expensive and he wants to move to more of a "wellness" plan.
"I know the health insurance plan that the government of the Virgin Islands has and provides for its employees and retirees is a crème de la crème plan," he said. "We want to pivot more to a wellness plan where individual employees and their families, if they institute lifestyle changes that improve their health assessments, that they receive individual discounts to their premium as it affects them so that that's a motivation to get to a healthier pool."
He went on to say there are about 26,000 government employees, retirees and their families on the Cigna plan, of which almost 5,000 have "never seen the doctor, never taken a lab, never visited a dentist."
"There are over 800 employees that have paid a $500 penalty because they refused to do their health assessments, they refused to go to a lab, they refused to go to a doctor. And out of the remaining 21,000, only 1,900 could be deemed healthy. All of the others had one or more chronic illnesses. And that is what is driving continued increases in the health insurance cost. And so until we pivot to a wellness program, you know, still the benefits and still the access to the Cigna net and still the choices to go see the doctors you want to see. But until we incentivize people to change their lifestyles and live healthier, that plan will continue to increase and then it will increase beyond our reach," Mapp said.
The cost of insurance premiums has increased at an exorbitant rate, he said, recalling that in 2004 and 2005, when he worked under Gov. Charles Turnbull, the total premium was $88 million – about half what it is today.
"And that is going through the bidding process and the whole nine yards, so we have got to address that," Mapp concluded.
The government had about $110 million in structural, annual deficits before hurricanes Irma and Maria wreaked havoc and greatly reduced projected tax revenues. That may increase up to $325 million this year, thanks to the storms, Mapp administration officials recently told senators in October. That amounts to more than a third of the local funding needed to pay V.I. government employee salaries. The territory has been unable to borrow in the private market but is hoping to access special federal disaster lending to help with the loss of revenue from the storms.
Reached by phone Monday afternoon, Joseph said she was busy with work and would call back. As of 8:30 p.m. Monday, Joseph had not yet returned the call nor responded to an email asking about her testimony.