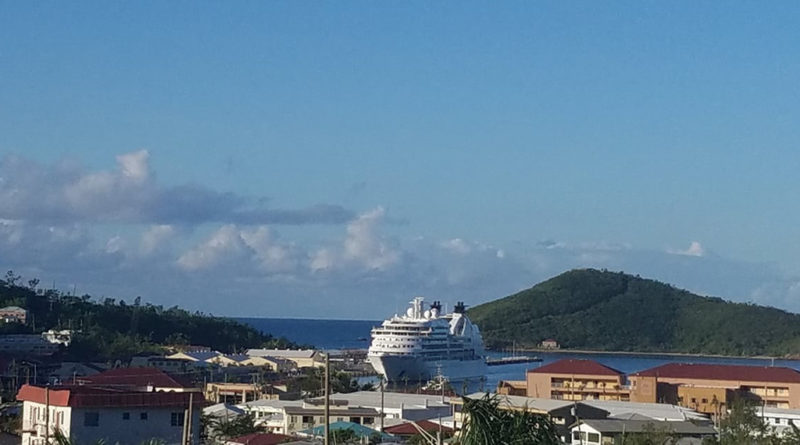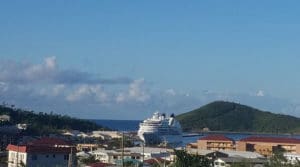 Volunteers worked Saturday to clean up Charlotte Amalie, getting the town ready for new visitors this week, but one cruise ship beat them to it, arriving at the island Friday.
Seabourn Odyssey paid a call on the port Friday morning, bringing the first visiting tourists to the territory since Hurricanes Irma and Maria blasted the the islands in September.
In preparation for the arrival of more ships and visitors, the V.I. Department of Tourism has its greeters ready and information centers open, while merchants on Main Street and in Havensight, where Odyssey docked, threw open their doors for sales for the first time since the onslaught of the two category 5 storms.
Saturday's cleanup, organized by Planning and Natural Resources, V.I. Marine Advisory Service, V.I. Marine Relief Logistics and the St. Thomas-St. John Chamber of Commerce, was meant to get ahead of the first scheduled call, but organizers said they were still excited to do what they could before more ships were expected.
"Seeing a ship in port this early was definitely a welcome sight," Kristina Edwards, education and outreach coordinator for DPNR's Coastal Zone Management Commission, said Saturday.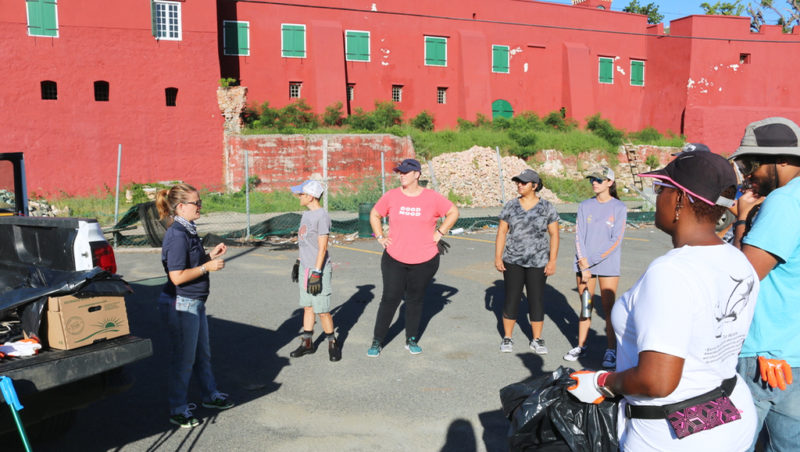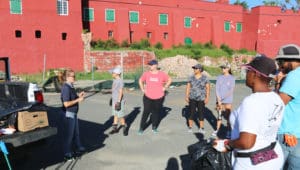 "I know at this point everyone's tired of cleaning, but being able to be here to help restore even more the historic district is definitely important, especially as we begin to welcome visitors again."
The cleanup ran from the Fort Christian parking lot eastward to Havensight and westward down to Frenchtown, focusing on hot spots such as the waterfront apron and guts along Main Street.
"There's a particular problem with single use plastics, such as individual water bottles, soda bottles and plastic bags," Edwards said. "These have always been a large part of our waste stream but lately, we're finding bottles washing up, getting stuck in rocks along the shore here and clogging guts, which is causing flooding."
To tackle the problem, Saturday's cleanup group moved in teams across the historic district, filling up bags and bags of trash while the sun beat down overhead.
"I think it also helps us see things are getting back to normal," said Maggie Reymore, a graduate student in marine and environmental science at the University of the Virgin Islands, as she prepared to fill her bag. "I live right up the road near Blackbeard's Castle, so this is my neighborhood, and it has been sad to see the damage caused to the beautiful downtown area by the storms. Being here today really gives us all some hope, I think, of things getting back to normal and it feels good to be able to be a part of bringing it back."
Cleanup volunteers also were treated to lunch Saturday by My Brother's Workshop, which supplied sandwiches once volunteers returned around noon.