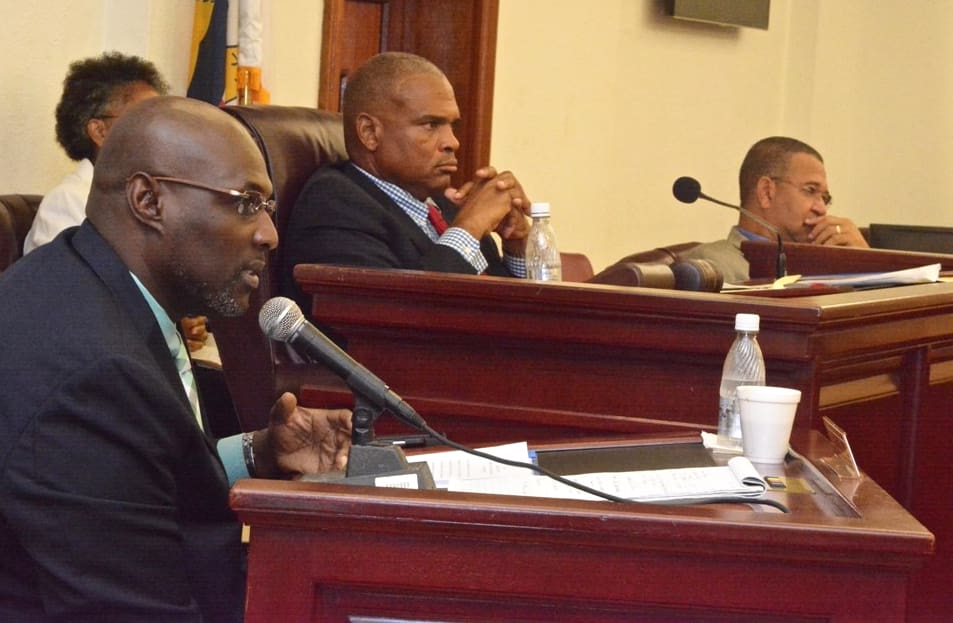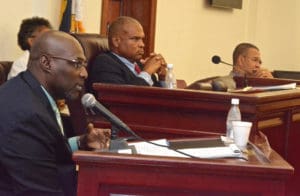 When Angelo Riddick, director of Bureau of Information and Technology (BIT), testified before the Senate Committee on Homeland Security Justice and Public Safety Friday, he highlighted what worked right during September's hurricane onslaught.
Senators were concerned with what went wrong.
Sen. Nereida Rivera-O'Reilly said she was "astounded" by all that was broken in the U.S. Virgin Islands after it was hit by two category 5 hurricanes.
Chair Sen. Brian Smith said that after the hurricanes the islands were thrown back to the "Fred Flintstone era."
Sen. Jean Forde pointed to problems the Department of Labor had getting out unemployment checks.
Riddick, who came to head BIT just about a year ago, highlighted BIT's effort to get most of its operation on the cloud in preparation for such a disaster as the one that hit the islands in September. He said the bureau used two resources to migrate "all applications and resources in a failsafe location."
The resources were the VBlock Personal Cloud and the Microsoft Contract Agreement. He said challenges, such as space limitations, maintenance operations and arrears in payment, did arise, but his agency was successful in getting applications that would impact the government the most if lost in a storm, on the cloud.
"The cloud" is a metaphor for storage online that allows access to data and applications from anywhere with internet access.
Riddick admitted BIT had problems with agencies doing what he called "stovepiping." Stovepiping has several definitions but in this context refers to a vertical stack of data that is isolated. In the case of the Virgin Islands government it means agencies contracting with various vendors for services without input, connection, or oversight from BIT. The services being contracted by an agency could vary from anything such as cutting checks, registering residents for programs or managing grants.
Rivera-O'Reilly pointed to a specific case where foster parents who were supposed to get their checks in September got their checks in early November.
Riddick said that he didn't have knowledge of that incident or been informed about it.
"Our biggest challenge is that we don't have visibility over these applications and resources," he said.
Riddick said he will look for legislative support in remedying the situation.
Regarding government departments still not back on line, Riddick said they need to have habitable facilities and power before BIT makes its effort to reconnected it to the internet. Then, Riddick said, "BIT does its darnest" to get the agency online.
As for the cell phone problems experienced across the islands; Riddick said after the storm Sprint just disappeared for a couple of weeks and is now "piggybacking" off AT&T. He said he was working on not letting telecommunication companies bill Virgin Island customers when they had no service. Sen. Samuel Sanes told him, "Good luck on that. I just got a bill from Sprint for $199." AT&T has told customers that there will be billing relief.
Riddick estimated the cost to repair damages to BIT facilities and to restore all services is approximately $893,000. These funds would also cover a digital signature application, Land Mobile Radio, digital camera close circuit television, additional network system administrators, an enterprise architect and more space in the Microsoft Cloud.
Claude Walker, Attorney General, also appeared at Friday's hearing to update Senators on the Department of Justice, post-hurricanes.
He said the department is investigating charitable organizations to ensure their legitimacy. He noted an increase in domestic violence reports. He urged residents to take advantage of resources such as the Division of Mental Health Hotline to deal with psychological stress.
He attributed an uptick in drivers cited for driving under the influence of alcohol during the night to the many recovery workers who don't realize how difficult night driving can be in the Virgin Islands. He said it was dangerous and unacceptable.
Other committee members present were Sens. Novelle Francis and Dwayne DeGraff.