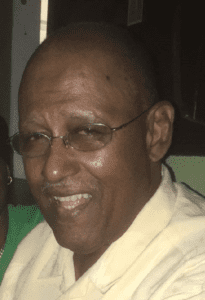 Claude Hugh Petersen of Estate Whim died on Sept. 13. He was 70 years old.
He was preceded in death by his mother, Grisiladis Sarauw Petersen; father, Gustave Petersen; and sister, Antoinette Peteresen Watts.
He is survived by his sisters: Merle Petersen George, Olga Petersen Hewitt, Marlene Petersen Henderson and Mavis Petersen; brother, Herman V. Petersen; adopted brother, Milton Mussington; adopted sons: Robert Phillip and Gideon James; sister-in-law, Charlene Smith Petersen; brother-in-law, Cecil George Sr.; aunts-in-law: Iris Moorehead Sarauw and Clarissa Messer Petersen; nieces: Natasha Henderson Petersen, Ohrea Hewitt, Chaniese Watts and Shayna Watts; and nephews: Emile A. Henderson III Esq., Delbert R. Hewitt Jr., Carl Derricks III, Kamal Watts and Cecil George Jr.
He is also survived by great nieces and great nephews too numerous to mention; cousins: Barbara and Nolia Milligan, Bernice and Mario Turnbull, Levron and Carla Sarauw, Nieresta Corneiro and family, Lawrence and Aquita Sarauw and family, Miriam and Vernon Walters and family, Julia Sarauw Boyer, Derrick Sarauw Sr. and family, Kevin Sarauw, Lemuel Jr., Lionel and Rodney Sarauw and family, Linda McBean, Rana Alarapon, Wanda Morris and family and Valerie P. Sackey and family; and numerous other cousins to include: the McBean, Petersen, Edney, Thomas, Heywood, Milligan, Gardine, Heyliger, Benjamin, James, Christian and Snypes families.
Other survivors include special friends: Gov. Kenneth E. Mapp, Ciprianni and Delores Matthews, Michelle Haynes, Gideon James, Vince and Debra Bazemore and family, Gwendolyn Olae and family, Lucien " Butchy" Petersen, Angel Rodriquez, Virginia Peguero, Yvonne Huntt, Adelbert Bryan, Jose " Che'" Soto, Egbert Wolff, Olla Petersen, Barbara Munchez, Alice Kuo, Brian O'Reilly, Ralph Bramble, Kenneth Henderson, Ramon Davila, Nigel Eudosie, Ena Inglis, Alvin James, Paul Thomas (aka Ranks), all the members of the Pool Association and the CHS Class of 1966; as well as other relatives and friends too numerous to mention.
Tributes will begin at 9 a.m. followed by a funeral service at 10 a.m., Wednesday, Nov. 8, at St. Gerard's Hall (Chapel). Interment will be at Frederiksted Cemetery.