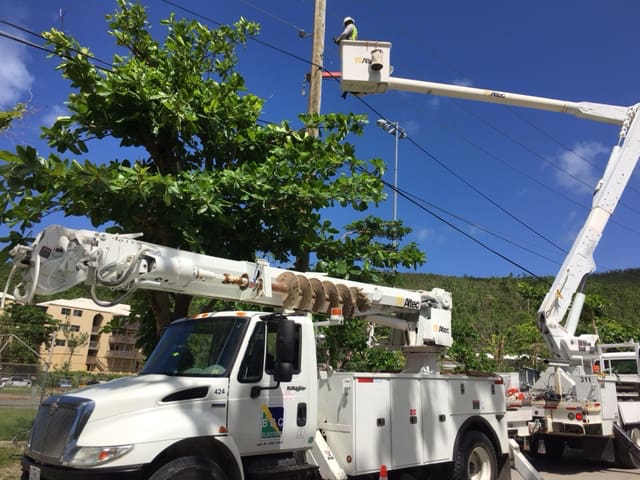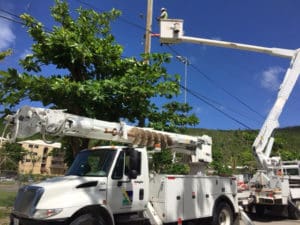 Two linemen from a stateside contractor were injured during an early morning carjacking attempt Monday in Cruz Bay.
Three linemen were getting ready to start their workday, sitting on the back of a truck with the engine running, when an individual jumped into the cab and attempted to steal the truck, according to Steve DeBlasio of the Bloomberg Response Group.
At least two of the men were thrown off the truck as the suspect started to drive off. The two linemen were hospitalized, and one with critical injuries would be airlifted for further treatment, DeBlasio said.
DeBlasio made the announcement at the Monday morning VITEMA briefing at the Virgin Islands National Park headquarters in Cruz Bay.
WAPA line superintendent Richard Lanclos had few details to add when he arrived minutes later to the meeting.
"As a community, we have to come together to make sure these guys are safe," he said.
The linemen were part of a team of 35 from BCC Electrical Services from Joplin, Missouri, that began work on St. John last week. Another team of 35 arrived on St. John Sunday, and a third team was expected this week.
The linemen have been helping WAPA restore power to the island, which got its first taste of publicly-generated electricity on Friday when lines in parts of Cruz Bay were energized for the first time since Hurricane Irma knocked out power when it the island as a Category 5 storm on Sept. 6.
The restoration of power in parts of Cruz Bay was expected to be a cause of celebration at the bi-weekly VITEMA briefing, but with the news of the attempted carjacking, the crowd became somber.
There were conflicting reports as to whether the suspect was apprehended or not. His identity is known to authorities, according to a member of St. John Rescue.
Shared content for Virgin Islands Source and St. John Tradewinds.