Gov. Kenneth Mapp on Monday suspended the territory's post-hurricane curfew, saying that all Virgin Islanders are free citizens.
Mapp announced the end of the curfew Monday at a Government House news conference.
The announcement came as more and more of the territory has been lit up by power crews, with St. Thomas at 38 percent, St. Croix at 19 percent and St. John at 14 percent. Water Island has not yet been connected but the supplies and line crews are on hand and officials expect the small island to be more than 80 percent re-energized very soon.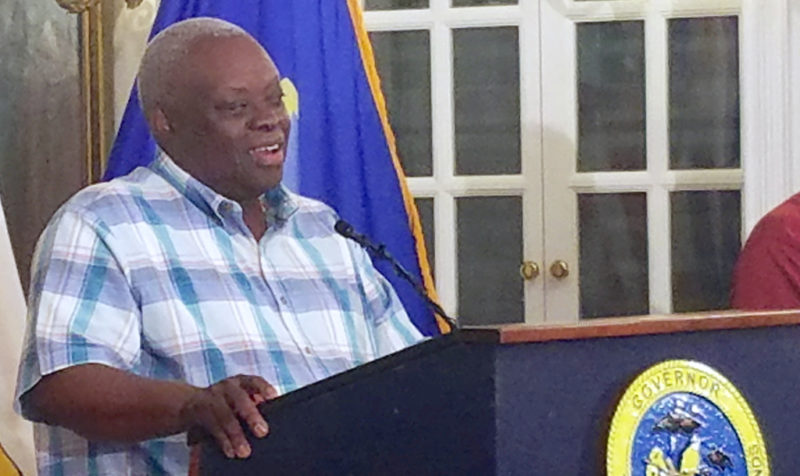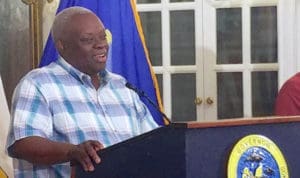 Other points discussed Monday by the governor were:
– More than $3 million in tax refunds were put in the mail on Monday morning.
– Mapp met with the V.I. Delegate to Congress Stacey Plaskett and with the V.I. Legislature on Monday to discuss the request made to the U.S. Congress for funds for the territory for hurricane relief.
"Maybe if we make the right kind of investment," it won't take months next to time get to a sense of normalcy, Mapp said as he discussed putting the power grid underground in the territory in order to minimize repair times during future natural disasters.
– The Federal Highway System will perform a complete round of traffic signal installations to repair signals destroyed during Hurricane Irma and Maria. The governor will request additional assistance from FEMA for this installation.
– The governor will testify at hearings in Washington the week of Nov. 14. He will meet with both Senate and House committees as well as with federal agencies and discussing different aspects of the aid requested for the Virgin Islands. Mapp hopes to bring a delegation from the V.I. Legislature with him to Capitol Hill to support the requests outlined in his letter to Congress for funding to help with disaster recovery.
– Bread and Bull Day, also known as D. Hamilton Jackson Day, is on Wednesday. Government employees will be off work but pubic schools will be in session. Due to the hurricane, the program usually held in Grove Place on St. Croix has been canceled this year but will return next year, the governor said.
– JFL Hospital will hold a town hall meeting Thursday to introduce JFL's new Chief Executive Officer Wanda Ruben to the public. The meeting will be at 5 p.m. in the V.I. Cardiac Center Conference Room.
– The Bureau of Internal Revenue is now open in the Nisky Center on St. Thomas from 9 a.m. to 3 p.m. Monday thru Friday.
– The roof at Government House on St. Croix has been breached, damage that was not discovered until recently when workers were trying to repair an elevator in the building.
– Police Commissioner Delroy Richards reported that seven people were hospitalized on St. Thomas due to carbon monoxide poisoning stemming from the use of a generator. Richards cautions individuals who run their generators to be careful.
– Mapp has requested help from Federal Coordinating Officer of FEMA Region II Bill Vogel for temporary homes for individuals who have no homes and may now be living in their cars in the territory. Vogel promised to look at all the alternatives for all types of housing.
– FEMA has given away more than $10 million dollars through its Individual and Households Program in the territory, and 2,200 blue roofs have been installed.