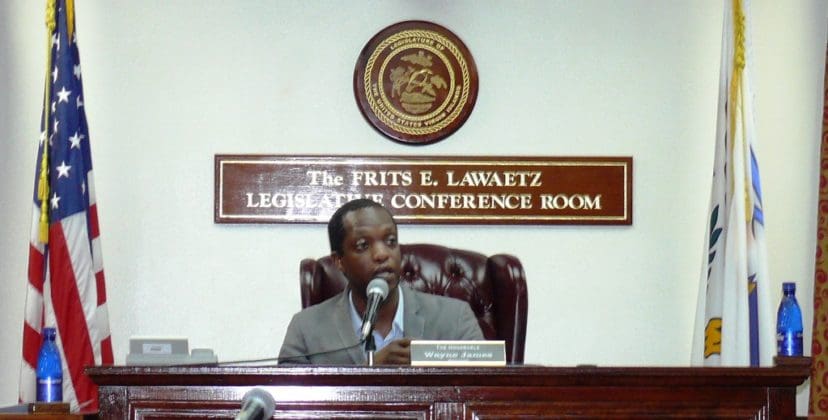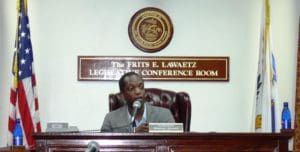 A federal judge rejected former Sen. Wayne James' motion to dismiss corruption charges, and he is scheduled to go to trial Nov. 6 for allegedly embezzling public funds.
Elected to one term in 2008, James was a V.I. senator on St. Croix from January 2009 to January 2011.
A 2011 joint federal and local audit found an array of misuse of taxpayer funds. It recounted how an unnamed senator, later revealed to be James, received 12 cash advance checks totaling $93,914 in 2009 as payment to the Danish National Archives for research, scanning, reproduction and translation of historic documents. While the report did not mention James by name, James held a press conference announcing his research findings from his visits to the Danish National Archives, leaving little doubt who the senator in question was. (See: Wayne James Unearths New Info on 'Fireburn' in Related Links below.)
According to the audit, the senator never submitted any receipts or invoices, and never provided copies of the documents: one of the 12 checks was for $27,636. When asked about the advances, James said some of the cash is in safe deposit boxes outside of the territory.
"We interviewed the senator, who told us that he rescheduled the trip and was keeping the cash advance in an off-island safety deposit box. We later determined that the trip was never taken and the money was never returned. After our repeated inquiries and a meeting with the senate president, the senator returned the money in June 2010," auditors wrote in a 2011 report signed by V.I. Inspector General Steven van Beverhoudt and U.S. Interior Department acting Inspector General Mary Kendall.
James vanished. A federal warrant was issued in October 2015. The former senator was arrested in July 2016 at a friend's apartment in Nonantola, Italy, on federal corruption charges. He was extradited to the territory and after a brief incarceration, has been on house arrest for the past year.
The charges carry penalties of as much as 20 years in prison.
James' attorneys filed for the charges to be dismissed, arguing that federal and V.I. law make James immune for arrest for activities during his term of office that are connected to his legislative activities. They argue James sponsored legislation commemorating V.I. historical events and used his research in Denmark in that legislation.
Thursday, U.S. District Judge Curtis Gomez rejected that argument, citing cases that distinguished legislative acts from acts that were ordinarily criminal and not essentially legislative.
"Here, James is alleged to have double-billed for expenses, filed sham invoices, and converted government funds," Gomez wrote in a memorandum opinion.
"The court finds that obtaining cash advances or reimbursements and depositing them into a personal account, double-billing the legislature, or submitting invoices for work either completed prior to his senatorial term or not at all do not qualify as legislative acts," he concluded, denying the motion.
Trial is scheduled to begin at 9 a.m., Nov. 6, on St. Thomas.