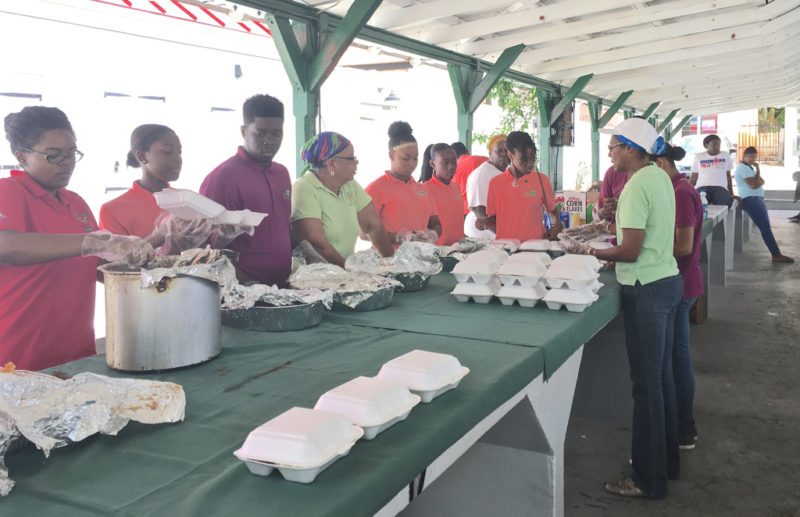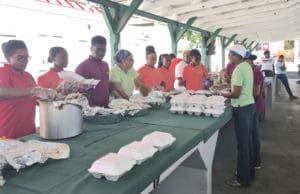 All four Rotary clubs on St. Croix banded together Sunday to hand out hot meals and supplies for "World Food Day" at Christians "Shan" Hendricks Market in Christiansted.
The event was a follow-up to the 100 plates of food served in Frederiksted the previous Sunday, according to Jannell Bryan, president of Rotary West
The student ambassadors from the 4-H Club of the University of the Virgin Islands distribute food to anyone who wanted it and handed out other supplies that had been collected. Some of the supplies had been collected for Hurricane Irma relief, but before the Rotary clubs could transport it to St. Thomas, Hurricane Maria slammed into St. Croix.
"We do something every year" in recognition of World Food Day, said Beverly Hermon, president of the Rotary Club of St. Croix.
This year was a little different as commodities were added to hot meals. These commodities were donated through local drives and also purchased through a donation made by the Rotary Club of Parkville, Missouri, through member Dave Rittman, who used to be a member of the Rotary Club of St. Croix.
The main idea of the event is to "bring attention to world hunger," Hermon said.
Of the $2,000 donated by the Parkville Rotary Club, $1,000 remains.
"We want to make sure we use it effectively," said Liz Goggins, Rotary area coordinator for the public image, as the clubs decide what to do with the remaining funds.
The drive gave the island's Rotary Clubs a chance to work together.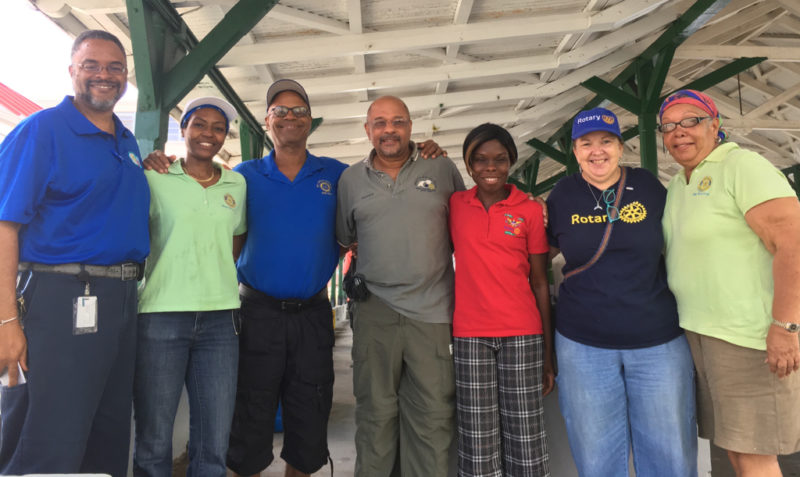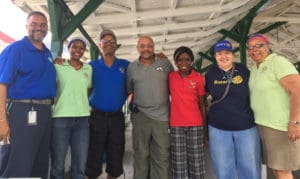 "We're so happy to collaborate in this effort," said President Willard John of St. Croix Mid-Isle.
The district governor of the Rotary region to which St. Croix belongs decided to use St. Croix as a distribution point for the islands after Hurricane Irma, and next week, a 27 foot trailer with supplies was slated to be shipped to the BVIs and Anguilla.
Rotarians on St. Croix are also working on other projects to help those affected by Hurricane Maria on their home island specifically. A trailer is coming from a Rotary club in Florida with supplies, and the clubs are considering opening a center with computers which would give individuals a chance to utilize hot spots even if they do not have a computer of their own.
There is also a project in the works to adopt families on St. Croix and provide them with much needed post-hurricane supplies.
"We need to help those who help us and help those who need us," said Sarah Dahl-Smith, extension specialist, 4-H Youth Development UVI. She volunteered the service of her student ambassadors for the "World Food Day" event. These volunteers, comprised of high school and college students, eagerly unloaded, packed and served food to everyone who visited the market on Sunday.
"We came here to help out and we learned a lot of new things," said Melissa Ferreras, a 10th grader from St. Croix Educational Complex High School.