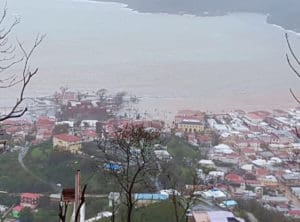 In less than three weeks, a hurricane-ravaged St. Thomas will welcome as many as 3,000 visitors from the cruise ship Adventure of the Seas, ushering in a rather truncated tourist season.
Gov. Kenneth Mapp, Tourism Commissioner Beverly Nicholson Doty, and leaders in the retail industry are counting on the island being ready for prime time, though a few skeptics are not so sure. It's clear that even some of the most ardent supporters have their fingers crossed.
Concerns include the lack of electricity throughout the island, the number of beaches still deemed unsafe for swimming; rutted, pothole-filled roads undermined by heavy rains; a scarred landscape; sunken boats that hamper sea access; the destruction of the hospital and major damage to other parts of the infrastructure; and a population shaken by anxiety and shadowed by depression.
Balanced against all that is a need to return to normalcy and to restart the territory's economic engine. The administration is banking on the resilience of Virgin Islanders and the public-private sector's ability to deliver a more limited but still quality vacation experience to cruise passengers.
"I absolutely think we'll be ready before Nov. 10," when the Royal Caribbean ship will dock at Crown Bay, Nicholson-Doty said.
The government has been coordinating efforts with the cruise line, focusing on the areas the line says are crucial: beaches, shopping, restaurants and roads, she said, adding that all have been or are being addressed.
The Department of Planning and Natural Resources regularly monitors the water quality of the territory's most popular swimming beaches. Run-off from the hurricanes and several severe rain events that followed in the next weeks caused DPNR to issue a number of advisories. But the problems seem to be tapering off.
According to last week's assessment, 11 beaches on St. Croix, six on St. Thomas and five on St. John were deemed safe for swimming.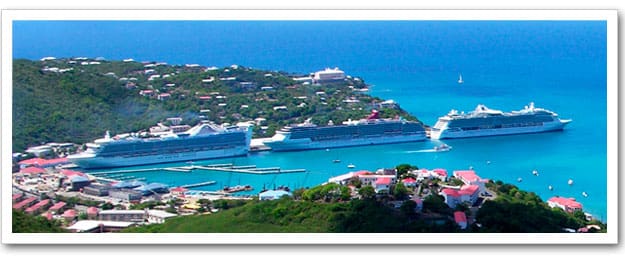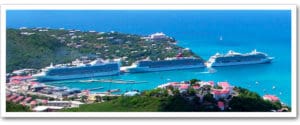 On St. Thomas, where the first ship arrival is scheduled, beaches that were approved were Magens Bay, Vessup, Secret Harbor, Sapphire, Lindbergh Bay and Coki Point. Two beaches, Brewer's Bay and Lindquist, were listed as unsafe because of the water quality. Another seven beaches "could not be sampled because access to them or the use of their waters pose a risk to health and safety and therefore the water quality at these beaches is unknown" according to the report.
Other factors besides water quality and immediate access can also be important. For instance, Nicholson-Doty said Tourism is not counting on Coki Point at this time because the road leading to it is so badly damaged. However, she believes there will be sufficient sea and sand available for cruise passengers.
Royal Caribbean has been working particularly on getting Magens Bay ready for use. That has included support of clean-up and sponsoring temporary structures for concessions. Nicholson-Doty said the effort is a coordinated one involving the cruise line, Tourism and the Magens Bay Authority.
"We are joined at the hip on this," she said.
As for shopping, she said owners of downtown stores have assured Tourism that they will be up and running on Nov. 10.
Business owner Louis deLyrot said Cardow jewelry store on Main Street is already open from 10 a.m. to 4 p.m. five days a week. The store, a fixture for more than 50 years, suffered relatively little damage from Hurricane Irma, he said. The storm surge and heavy rains that inundated downtown left behind a lot of water and mud, but did little structural damage and resulted in only a minor loss of inventory.
"We cleaned up and we opened the store right after Hurricane Maria," which hit 12 days after Irma.
That action was motivated by a desire to restore a sense of normalcy, rather than in anticipation of actual sales.
"It's a little bit more of 'on faith' than a business decision, let's put it that way," deLyrot said.
Sebastiano Paiewonsky Cassinelli, president of the St. Thomas-St. John Chamber of Commerce, lauded the work of individuals and of the community's non-profits in recovery efforts and of the government's push to restore some semblance of a tourist season, but he also cautioned about pitfalls.
"It is vital for our economic recovery that the cruise ships and their passengers return to the territory and with a full itinerary, which will positively impact employment and generate much needed revenue for individuals, business and government," he said. "However, we have a very short window for the Virgin Islands to be ready to accept cruise guests in order to maintain our position as a premier destination. Our guests will be understanding, but only to a certain point."
"This is a situation where the old cliché about 'the devil in the details' applies and the details of all that our visitors will encounter when they come back to our still-recovering shores need to be carefully and minutely considered."
Similar sentiments were expressed by a long-time taxi driver who did not want his name used for fear of being labeled negative.
"I can't say yes or no," whether the island is ready, he said. "What I see happening is the traffic is too bad to deal with it. … I want the ships to come back but I want the tourists to be happy. I would hate for it to leave a bad taste in their mouth."
Nicholson-Doty said the government is concentrating on clearing the major arteries not only of roadside debris but also of broken and overhanging utility poles.
Tourism also plans to meet with taxi drivers to reinforce the message the islands want to convey to visitors, the best routes to travel with passengers, and the importance of customer service.
"We must be honest," but also "as positive as possible," she said.
"I think that we are going to recover in various stages," she said, addressing a question about emotional readiness. "We're all in stages of shock, horror … But what stands out for me in the last six weeks is the resilience of our people."
Royal Caribbean contracts with the Port Authority for its ships to dock at Crown Bay. The bulk of the cruise ship business still contracts with the West Indian Co. to dock at Havensight.
WICO president Clifford Graham said he's negotiating with other lines to begin coming into St. Thomas in November. There is agreement that they will return soon, but actual dates keep shifting.
Graham declined to comment on the island's overall readiness, but said, "We at WICO are ready."
Nicholson-Doty said Tourism is expecting another 20 to 25 ship calls in the weeks following the Adventure of the Seas visit.