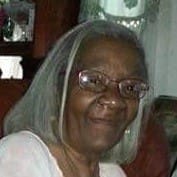 Joan Margaret Cook of Peter's Rest died on Thursday, Oct. 12. She was 72 years old.
She is survived by her daughters: Jill Pierre and April Cook; son, Bryant Cook; grandchildren: Peter Matthias, Dylan Matthias, Amya Cook- Johnson, Aziva Francis and Bryant Cook Jr.; brothers: Junior Matthews, Emerson Matthews and Wayne Matthews; nieces: Beverly Elie, Dawn Elie Forde, Djenaba Elie De Four and Dianne Canton; great nieces and great nephews too numerous to mention; daughter-in-law, Crystal Mean; sons-in-law: Hess Francis and Justin Johnson; special friends: Kathleen Francis, Shanda Ramnarine and family, and Carlina Lawrence; as well as other relatives and friends too numerous to mention.
The viewing will begin at 9 a.m. followed by the funeral service at 10 a.m., on Thursday, Oct. 26, at St. Peter's Episcopal Church, Peter's Rest. Interment will be at Kingshill Cemetery.