Museum historians normally research, document and catalog artifacts for their historical archives. However, the job includes much more for a pair of citizen soldiers from the North Carolina National Guard Museum and Learning Center of Excellence.
Capt. Sean R. Daily, the museum's director, and Sgt. Gary C. Spencer, the museum's curator, are deployed to the U.S. Virgin Islands to document the National Guard's response to the destruction wrought from Hurricanes Irma and Maria. The two storms struck the islands with a devastating one-two punch two weeks apart in September.
Hurricane Irma struck Sept. 7 and Maria hit only 12 days later, on Sept. 19. What Irma didn't destroy, Maria drowned.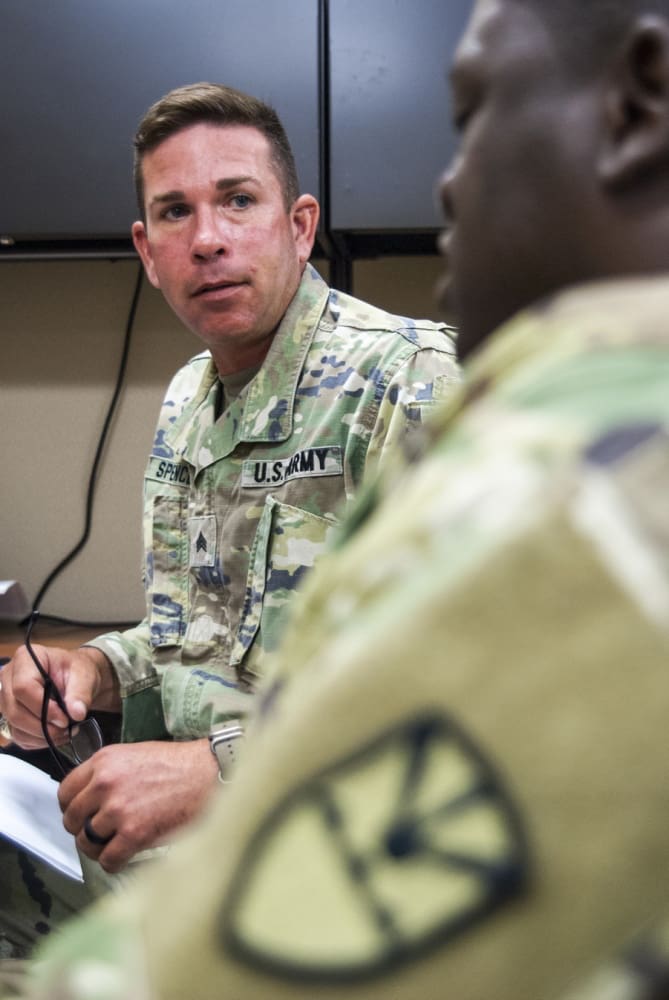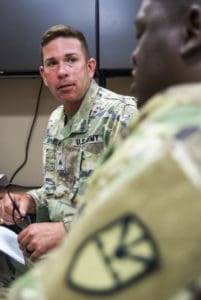 Daily and Spencer are unique as military historians. When not in the museum, they serve the North Carolina National Guard as the commander of an engineer company or as an M1 armor crewman, respectively.
"We offer a dynamic that is not necessarily traditionally found in a military history detachment," Daily said.
As soldiers, they are prepared and trained for disaster response, he said, but with their experience in handling and salvaging artifacts, they are very well suited for this type of mission.
The U.S. Army responds to catastrophic events in various stages, and a historical documentation team in usually among the first to respond. This team arrived shortly after Hurricane Irma and expanded to include Maria after the second blow landed.
Interviews are of primary importance for historical documentation, Daily said.
"First person accounts are better than any [Operation Order] that you can find. It's absolutely critical that you capture the firsthand accounts and experience insights, lessons learned obstacles, hurdles, you name it," said Spencer.
Just gathering interviews isn't enough, there must be planning involved.
"The focus for us has been straight quality and the proper personnel, so it has been strategic, versus just sure numbers. We are looking for and identifying trends because the mission itself, as I see it, is based on an authentic after action report (AAR)," said Daily.
The collection of artifacts, however, is just as important as the interviews, Spencer said.
Artifacts are not just old relics like Civil War rifles. They can be maps, samples of food being handed out, or anything that can be sent back that represents the event.
Once all the interviews and artifacts are gathered, the process isn't complete.
"Ultimately, everything that we do is going to be wrapped up and packaged. We are transcribing our interviews, building a synopsis of the interviews so that senior leadership can take quick looks at what it is that the interview is about," said Daily. "Then we are going to do a quick wrap up, kind of a mission statement prospective based on an AAR breakdown."
The historians also will attempt to identify trends.
"One of the negative trends we have identified thus far is communication," he said. "Logistics has been very important, and has been one of the positive trends on St. Croix, and a negative over on St. Thomas. Logistics have been complicated just based solely on the fact that they are standalone islands."
The historians are looking for the whole picture, not just the negatives.
"The overarching positive trend is people are working together well. I think last I heard we had 31 states represented on the islands. And things are going well, things seem to be flowing well between each other," Daily said.
Once they are done, the two historians will return to North Carolina knowing they got to be not only be a part of, but also write, a bit of history on their own.