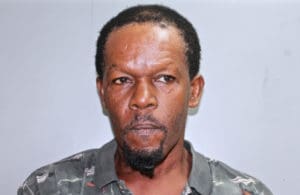 The V.I. Police Department Monday arrested a suspect in the Saturday stabbing death of a man in Williams Delight.
According to the VIPD, 52-year-old Edward Jefferson Charles was arrested at 8:45 a.m. Monday and charged with first-degree murder.
Charles had been identified as the individual who fatally stabbed 55-year-old Berchan Joseph.
Police received a notice at 7:42 p.m. Saturday of a stabbing at Main Street on the corner of 6th Avenue in Williams Delight. Responding officers discovered Joseph lying on the roadway, unresponsive. He died at the scene. Police reported they were looking for a "person of interest," known as "Eddie."
Bail for Charles was set at $1 million. He was remanded to Golden Grove Detention Center pending an advice of rights hearing.