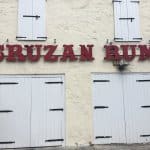 The Cruzan Rum distillery has resumed rum production following a temporary shutdown due to the impact of Hurricane Maria. Located on St. Croix, the Cruzan distillery produces some of the world's finest aged rums and is also a popular destination for visitors to the island.
While the distillery suspended operations for approximately three weeks due to storm damage, it completed critical repairs and does not expect any supply disruptions in the marketplace. Even though some of the company's warehouses sustained damage, Cruzan's aging rum supply was not impacted. Previous investments to establish the distillery's own power generation facility to strengthen business resilience also enabled the timely resumption of rum production.
"Cruzan's roots are wide and deep in the USVI, and Cruzan and the Beam Suntory family have been engaged from the start in support of our employees and neighbors in the territory during this incredibly challenging time," said David Hunter, SVP of Global Supply Chain at Beam Suntory, the parent company of Cruzan Rum.
"Our first priority was to establish the safety and wellbeing of our employees, and to help them get back on their feet. We airlifted in 35 restoration workers with necessary equipment and supplies to help get the distillery back up and running safely. In partnership with our friends at Diageo, we teamed up to ship to St. Croix a container of relief supplies, including 90 generators and drinking water. Thanks to the courage, character and commitment of our Cruzan team, led by master distiller Gary Nelthropp, our people are looking ahead and helping contribute to the long-term recovery of the U.S. Virgin Islands," said Hunter.
In recent weeks, Beam Suntory, its brands and its parent company have provided more than $2 million in cash and in-kind support for disaster relief in the U.S., U.S.V.I. and Mexico including:
$1 million to the American Red Cross for hurricane relief
$500,000 to the Fund for the Virgin Islands
$100,000 to employee assistance funds established by distributor partners
Cash donations to relief organizations including the Bartenders Emergency Fund and Operation Barbeque Relief
Proceeds from the sale of remaining bottles of Booker's Rye (2017 Whisky Bible's "World Whisky of the Year") donated to hurricane relief
Dollar-for-dollar company match of eligible employee donations to relief agencies
Airlift of 35 restoration workers and supplies to repair distillery
Partnership with Diageo to ship relief supplies to St. Croix, including 90 generators and bottled water
$200,000 to the Mexican Red Cross for earthquake relief
The Cruzan brand will soon announce a program to further support the ongoing recovery in the U.S. Virgin Islands.