After a disaster it's almost impossible to plan an effective recovery operation without knowing the scope of damage and type of assistance survivors need.
Global Disaster Immediate Response, an NGO fondly referred to by locals as "DIRT," has taken on the task of assessing problems on St. John.
Immediately after Hurricane Irma devastated the island on Sept. 6, two members of DIRT arrived on St. John and began assisting with search and rescue missions. Since then, the number of DIRT volunteers has fluctuated from four to 10.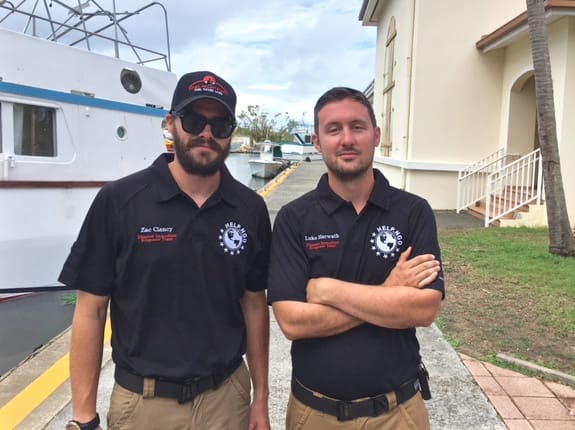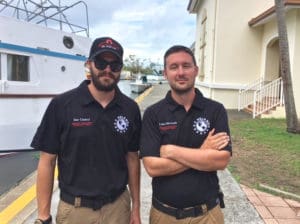 They've become indispensable, providing logistics and support for road clearance, communications, delivery of supplies, and other emergency operations.
DIRT has now collaborated with Love City Strong and the Bloomberg group to embark on Phase I of the Island Survey Assessment, according to Luke Harwath, Global DIRT's director of communications. After hosting a job fair on Sept. 30, they selected early 50 volunteers, who are paid a weekly stipend, to organize into neighborhood teams.
Two members of each team are going to every home on St. John to determine residents' immediate needs and conduct a visual inspection of damage from the outside: Is access to the home blocked by fallen trees? Does the house have an intact roof? Does anyone in the household have special medical needs? Team members are gathering this kind of information as they make their first rounds, but no personal identifying information is collected unless a resident chooses to share it.
"It's kind of fun, but at first it was kind of depressing," said Donna Smith. After three days on the job, she and partner Leona Thomas had already made their way from Fish Bay, where damage was more severe, to Rendezvous Bay where the villas were generally more intact.
At each home, canvassers use a satellite mapping application on their smart phones to "drop a pin" and record the exact location of the residence. In the future, first responders will be able to use this information in the event of a fire, medical emergency, or law enforcement action. The lack of such a mapping system was the subject of much complaint during a public hearing held in October 2016 to determine the effectiveness of VITEMA's 911 system.
"This will help first responders for years to come," said Harwath, who said directions based on landmarks such as "the fork in the road" (literally, a large wooden sculpture of a fork that sticks out of the ground on Gifft Hill) are mystifying to all but some local residents.
"We initially deployed this type of technology in the wake of Superstorm Sandy in New York," he said. The St. John volunteers are awaiting the arrival of "tough books" – basically rugged laptop computers – which team members will use over the next two to three months to record information as they make additional rounds.
In its first four days of operation, volunteers surveyed almost 900 structures, according to Clayton Covel of DIRT.
The information collected from the survey will be used by FEMA, VITEMA, the Red Cross, and other relief organizations to target the next phase in their relief operations.
For example, FEMA will know exactly how many roofs are damaged and whether they can be repaired or must be replaced. Emergency medical technicians will know whether they can wheel a gurney right to a home's front door or will need to carry a stretcher.
As more generators are arriving on island, canvassers are noting their model numbers, so the correct type of plugs and replacement parts can be kept in stock.
Global DIRT began as HELP.NGO in the aftermath of the 2010 earthquake in Haiti. Harwath joined the organization in 2013 to work with survivors of the earthquake and tsunami in Japan. Volunteers are not paid for their work, although the organization pays for their travel.
"We all have other work," said Harwath. "I'm a filmmaker. Tim is a firefighter. Zac is an IT programmer. A lot of us have backgrounds in the military."
The South Carolina-based organization received an award from President Barack Obama for its life-saving work.