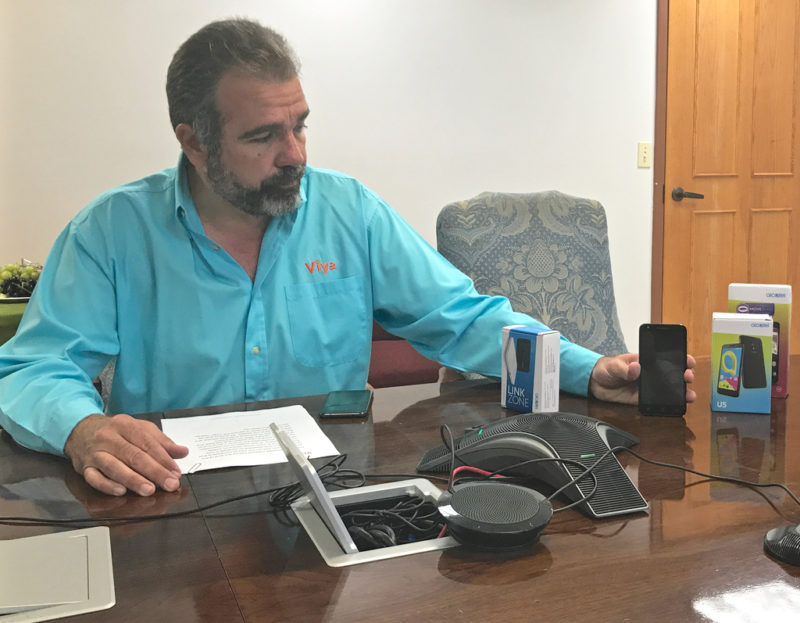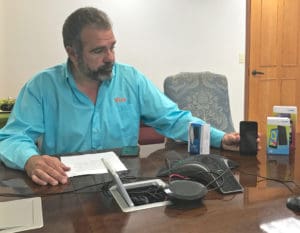 Viya's fast-tracked launch of a new wireless network has helped bring Internet and data services to customers across the territory in the wake of Hurricanes Irma and Maria, company officials said Monday.
Speaking at a news conference at Viya's headquarters on St. Thomas, company President and Chief Executive Officer Alvaro Pilar said a new 4G LTE network was planned to be rolled out at the end of September/beginning of October. In the face of the twin storms, Viya was able to "fast forward" the launch so that customers can get online.
It's not perfect, Pilar said, but it's been the quickest way to get way to get people internet – including government agencies ranging from the V.I. Water and Power Authority to the airports. Viya was the first carrier to establish hotspots on island – federal officials coming in have even been able to take advantage of the service, Pilar said – and has been working with the territory's two cell phone carriers, Sprint and AT&T, to get their networks back up and running.
Any Sprint customer able to get a Choice Wireless signal is able to tap into that network and use their phones, Pilar said. Meanwhile, Viya has helped to power AT&T generators, clear sites and lend technical support where needed.
Google's parent company, Alphabet, has received permission from the Federal Communications Commission to launch its Project Loon weather balloons over Puerto Rico and the U.S. Virgin Islands to help restore cell phone connectivity to residents. Pilar said Viya has already touched base with company officials to see if it can be tapped as one of the local carriers whose frequencies can be used as an anchor for the balloons, which will be used as a "base" station to mass deliver voice and data service. (See Related Links below.)
In the meantime, Pilar said Viya owns "a lot" of bandwidth and frequency and plans to take advantage of it. The new Mi-Fi boxes that have brought residents flocking to the company's offices are being handed out free to Viya customers with high-speed service while non-Viya customers are being signed up for plans. (Questions about billing can be answered at Viya's website.)
The boxes' speeds run from 6 megabits to 25, and Pilar said Viya is waiting for FCC approval to lower the frequency on its network from 850 megahertz to 600 to allow for better connectivity inside buildings.
The first set of 5,000 boxes are almost out, and while Pilar said he expects another shipment of 5,000 next week, the next plan is to sell cell phones that can be turned into hot spots for connectivity, he added.
The same plan is in place for St. Croix customers once the network there is lit up, and for St. John. Pilar said residents are also able to take advantage of hot spots while antennas are being put in place to allow residents to tap into the same network in places like Cruz Bay.
Since most of the hardware has been given to customers instead of sold, Pilar commended the FCC for giving the company seven months worth of Universal Service funds – federal funds given monthly to support communications in rural areas – to help boost finances.
Cable service, meanwhile, is dependent on the restoration of electricity throughout the territory, but Pilar said service is up – and is being used in some areas of St. Croix with power – and that Viya is working "hand in hand" with WAPA to get the lines up.
Never famous for its voice over-service, Viya might be the best on island right now, Pilar said, but added that residents should still feel comfortable keeping their landlines if they want to.
Asked Monday if Viya plans to go underground with its infrastructure, Pilar said he hopes to do so for the company's "core network." But while the government is considering it, customers still have to get service in the meantime.
"Were the key to normalcy," he added. "These days, normal is able to go on the internet, watch a movie, go on the internet, read the news or send an email. It's the same as having a cold drink or a shower, people need to feel normal and that's what we're working to achieve."