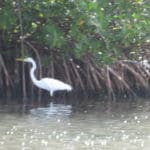 The National Park Service releases information on Christiansted NHS (CHRI), Buck Island Reef NM (BUIS) and Salt River Bay NHP&EP (SARI) — all of which sustained damage from Hurricane Maria, mainly in the form of downed trees, loss of power, structural building damage, shoreline erosion and storm-washed debris.
As of Oct. 5, Christiansted NHS (CHRI) remains closed to the public while the park conducts cleanup, building repairs and the Government of the Virgin Islands (GVI) works to restore power to Christiansted town.
FEMA is currently operating the Disaster Relief Assistance Program in NPS DWI Guinea Company Warehouse first floor (Old Post Office Building) from noon to 5 p.m., and the parking lot will remain closed.
Salt River Bay NHP & EP Visitor Contact Station was badly damaged by hurricane Maria and will remain closed to the public for the foreseeable future. Buck Island Reef sustained substantial damage to shoreline, vegetation and coral reef areas. All park facilities at Buck Island Reef NM above the highwater mark are closed including the 100 ft.-long cement pier on the south side and the underwater trail area. Any visitors that enter Buck Island Reef NM do so at their own risk.
Caution: All Buck Island Reef NM private NPS aids-to-navigation, regulatory, boundary and information buoys are not on station and should not be used for navigation. NPS is in the process of re-establishing and correcting buoys as soon as possible. NPS law enforcement patrols are underway.
For further information, contact www.nps.gov/CHRI
Incident Information: http://go.nps.gov/Hurricanes