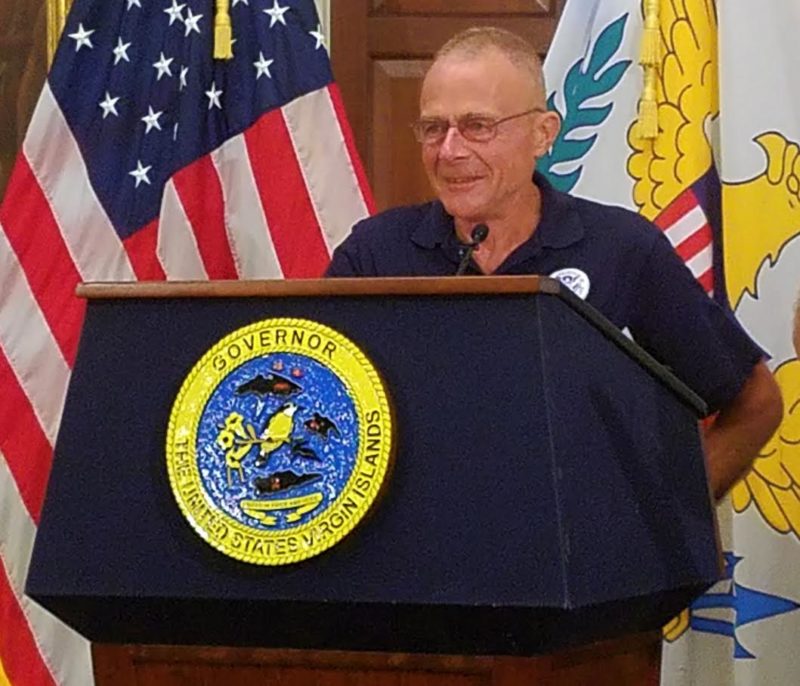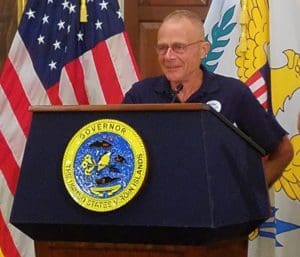 Housing inspectors from the Federal Emergency Management Agency are visiting neighborhoods in the U.S. Virgin Islands to verify damages caused by hurricanes Irma and Maria.
According to FEMA, inspectors will contact survivors who have registered with FEMA. They will call survivors in advance of the visit to set up an appointment. If they are unable to reach a survivor by phone due to the current communications outages, they may visit a residence without a confirmed appointment.
The V.I. Territorial Emergency Management Agency has asked that survivors place visible plot numbers on their property to ensure inspectors can identify the property.
"A housing inspection is an important early step in the recovery process, as it helps us determine how FEMA and our recovery partners can best assist you," said Federal Coordinating Officer William Vogel. "We urge residents to make themselves as readily available as they can to meet with their housing inspector."
FEMA officials say they understand that some Virgin Islanders with property damage may have temporarily relocated off island. So FEMA is asking family and friends to let them know they should still register for assistance and provide their current contact information. FEMA will reach out to them to coordinate an inspection when it is possible.
Inspections can only be done after survivors register. Those with damage to homes, vehicles, personal property, business or its inventory can register with FEMA. When applying, survivors will be asked to provide their current contact information so that an inspector can reach them.
When inspectors arrive at a home, they will display their official contractor photo identification. If the photo ID is not visible, it is important to ask to see it. This helps prevent fraud. FEMA inspectors do not charge survivors for their services or recommend specific contractors. If someone asks for money to inspect your home or promotes a contractor, it is most likely part of a scam.
Inspectors already have each applicant's nine-digit registration number so there should be no need to ask for it. Survivors will however be asked to provide a valid driver's license or other photo identification.
To speed the FEMA assistance process:
– Ensure the house or plot number is clearly visible from the road.
– Keep your appointment or notify the inspector if you need to reschedule.
– Be reachable. It helps to inform neighbors where you can be reached if your home is uninhabitable.
Survivors who are displaced to other areas or islands may designate a relative, friend or neighbor to allow the inspector onto the property, but the designated person must be 18 years or older.
Owners must provide proof of ownership, such as a tax bill, deed, mortgage payment receipt or insurance policy with the property's address. Renters must show proof of occupancy, such as a lease, rent payment receipt or utility bill.
FEMA will only provide assistance for a primary residence. However, survivors may be eligible for a low-interest disaster loan.
If possible, provide photos of the damage that can supplement the images taken by the inspector.
An inspection generally takes about 15 to 30 minutes to complete. Keep in mind that inspectors do not determine an applicant's eligibility for assistance. They just enter the information electronically into FEMA computers. Their job is to verify disaster damage, but they do not need to document all damage. They review damage to structures, major appliances, septic systems and wells.
There is no need to wait. Survivors should begin cleaning up without worrying about losing out on disaster assistance.
"We understand that residents want to get their hurricane-damaged homes cleaned up as soon as possible," Vogel said. "You don't need to wait for us to get start cleaning up. Just be sure to document the damage."
Disaster survivors with communication-related disabilities – those who are deaf or hard of hearing, blind or have vision loss and those with speech difficulties – may request accommodations to aid in communication. For instance, survivors may request an American Sign Language interpreter when registering. They should also verify the accommodation with the inspector when contacted.
Registration with FEMA can be completed online at www.DisasterAssistance.gov, in Spanish at www.DisasterAssistance.gov/es, or by phone at 800-621-3362 or (TTY) 800-462-7585. Those who use 711-Relay or Video Relay Services may call 800-621-3362.
The toll-free telephone numbers operate from 7 a.m. to 11 p.m. (local time) seven days a week until further notice. Operators are standing by to assist survivors in English, Spanish and many other languages.
Disaster recovery assistance is available without regard to race, color, religion, nationality, sex, age, disability, English proficiency or economic status. If you or someone you know has been discriminated against, call FEMA toll-free at 800-621-3362 (voice, 711/VRS – Video Relay Service) (TTY: 800-462-7585). Multilingual operators are available (press 2 for Spanish).
For official information on the recovery effort following the hurricanes, please visit www.informusvi.com or www.usviupdate.com. Follow us on twitter at twitter.com/femaregion2.
To donate or volunteer, contact the voluntary or charitable organization of your choice through the National Voluntary Agencies Active in Disasters at www.nvoad.org. For those who wish to help, cash donations offer voluntary agencies the most flexibility in obtaining the most-needed resources and pumps money into the local economy to help businesses recover. The Community Foundation of the Virgin Islands also has the "Fund for the Virgin Islands" at www.USVIrecovery.org.