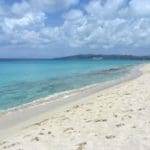 All National Park Service (NPS) units in Puerto Rico and the Virgin Islands will remain closed. The NPS Eastern Incident Management Team (EIMT) and the superintendent for the National Parks of the Caribbean reiterate and reinforce the closure of all park units due to continued Hurricane Maria recovery and emergency stabilization efforts.
Under the authority granted the NPS and the superintendent, the public use limits and the closures will remain in effect for the foreseeable future. Unsafe and hazardous conditions continue to exist for both the public and park employees.
No date to reopen any areas is known at this time. As local conditions improve the superintendent will evaluate and open specific areas.
Due to the closure, all holders of Special Use Permits should consider any current or pending permits to be on hold until the park area re-opens. Permit holders are encouraged to visit https://www.nps.gov/aboutus/news/severe-weather-response.htm for updates to local conditions and progress of stabilization efforts or visit the individual park's website. Incident Information: http://go.nps.gov/Hurricanes