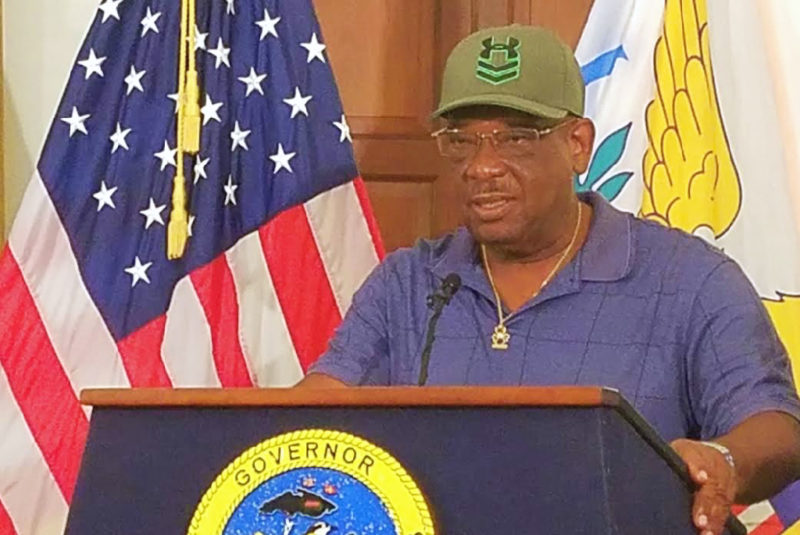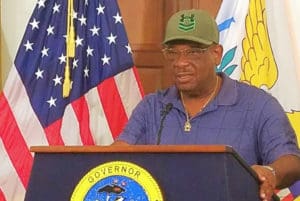 The U.S. Virgin Islands has received $35 million dollars from the federal government to use towards power restoration and road clearing and removal, Gov. Kenneth Mapp said Wednesday in his regular news conference updating hurricane recovery in the territory.
According to Mapp, the $35 million deposit from the federal government means that funds have now been given to the Water and Power Authority to wire money to their stateside partners. A crew of 240 linemen will arrive in the territory on Oct. 13. WAPA is preparing work schedules for the additional linemen as they prepare to power up the islands. There are also 150 supplemental linemen that can be brought in to work alongside the WAPA employees.
Mapp's goal is to restore power to 90 percent of the territory by Christmas.
In other hurricane recovery news:
– Mapp eased the curfew. It is now 7 p.m. to 5 a.m. St. Thomas and St. John, and 7 p.m. to 9 a.m. on St. Croix.
– Due to improvements in the power distribution system, the St. Thomas correctional facility now has power and those inmates that had been moved to St. Croix from St. Thomas will be returned, creating more vacancies at the St. Croix correctional facility. This also means that no inmates need to be transported off-island to stateside facilities.
– The Department of Planning and Natural Resources has announced that fishermen who have lost traps or have had other losses related to their industry due to Hurricane Irma or Maria can apply for federal assistance much like the Disaster Unemployment Assistance offered to those who are unemployed or have had a disturbance to their ability to make a wage.
Those who may qualify can contact DPNR.
– Mapp announced that the school year slated to begin Monday on St. Thomas and St. John will officially end on July 12, 2018.
– There will be a drastic decrease in distributions of water and food in the whole territory, Mapp said.
"We're transitioning to d-SNAP and supermarkets," Mapp said, with no distribution dates scheduled until Oct. 10. Mapp said he hopes the whole territory is able to transition from depending on distributions from the federal government to going on the disaster SNAP program, which would allow those who may not otherwise have been on SNAP to qualify. The program roll-out date is Oct. 16 for disaster SNAP benefits. Those who are already on Snap benefits will not be able to apply for the program again. More supermarkets are also now open, which should help the food and water need in the territory.
– Police Commissioner Delroy Richards said that there is a downward spiral in crime, with no felonies having been committed in the 24 hours preceding Wednesday's news conference.
However, Richards said traffic has been horrendous, as thousands of people showed up at Home Depot on St. Croix on Tuesday, the first time the store has been opened since Hurricane Maria. Richards will deploy more patrols on the roads to make sure that no incidents occur due to traffic.