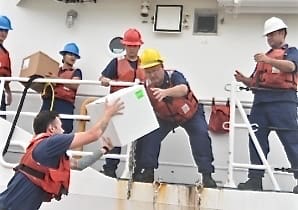 The U.S. Coast Guard partnered with Doctor's Choice Pharmacy Saturday to ship critical prescription medication to St. Croix from St. Thomas. The medicine crossed between the two islands aboard Coast Guard Cutter Winslow Greisser.
Representatives from Doctor's Choice met the cutter's small boat at the Branch St. Thomas Boat Forces pier in Charlotte Amalie. The medicine will be distributed to pharmacies on St. Croix.
"If I lived on St. Croix with my own family, I would want somebody to help us out," said Chief Petty Officer Tito Afip, command chief of the cutter. "It feels good to be able to help our neighbors on St. Croix get the medicine they need."
Cutter Griesser is part of a 13-cutter Surface Asset Group working around the clock to bring relief to citizens of Puerto Rico and the USVI after the islands were battered by Hurricanes Irma and Maria.
Griesser was commissioned in 2016 and is homeported in San Juan, Puerto Rico.