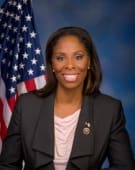 Delegate to Congress Stacey Plaskett released the following statement after speaking with the Ambassador to the United States from Denmark and learning that the Danish government will soon be lending relief help to the U.S. Virgin Islands after the recent devastation from Hurricanes Irma and Maria:
"Recently, while in Washington, D.C., I met with The Honorable Lars Gert Lose, Ambassador to the United States from the Kingdom of Denmark, to discuss the possibility of immediate relief efforts for the Virgin Islands following the destruction left by Hurricanes Irma and Maria. I am happy to report that today I have been informed by Ambassador Lose that the Danish government has been contacted by FEMA to discuss what specific assistance their government can provide immediately to the Virgin Islands.
"During my meeting with the Ambassador we discussed the many ways the Danish government could be of assistance to the islands. The Ambassador mentioned that they could provide important services in a multitude of ways.
"We look forward to working with the Danish government on these relief efforts. As my office gets more information on the specific support the Virgin Islands will be receiving, we will pass it on to the residents. I expressed to the Ambassador that the Danish government's support will be greatly appreciated by the people of the U.S.V.I."