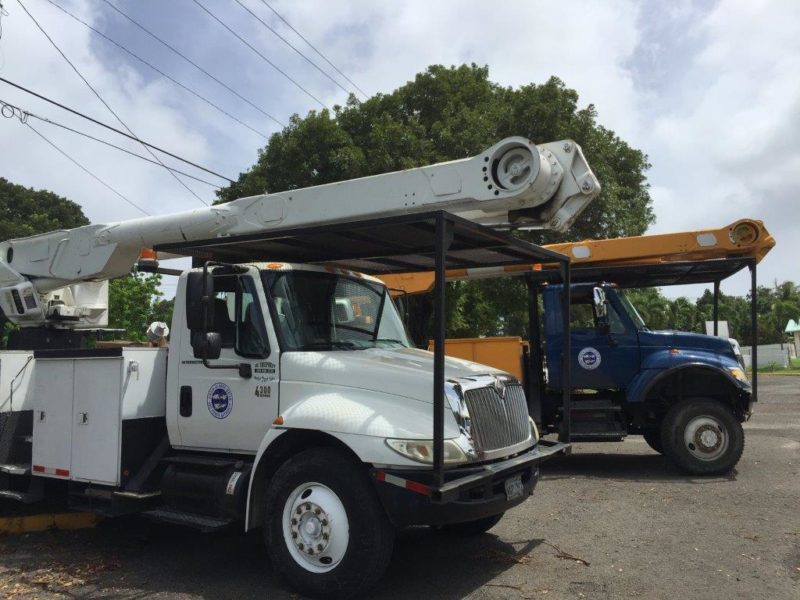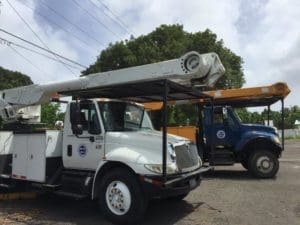 Crews from the V.I. Water and Power Authority will begin begin position a shipment of about 1,300 utility poles at strategically chosen locations across St. Thomas Friday beginning 7 a.m.
The poles are part of an initial shipment of additional supplies needed to rebuild the transmission and distribution system, WAPA said in a news release. Convoys will be deployed from the cruise ship dock in Havensight, destined for the west end, north side and east end areas.
WAPA is asking for the cooperation of the motoring public during this undertaking.
"Please yield the right of way to the wide-load trucks as they transport and position the poles," the news release said. "This work cannot be done during curfew hours, as daylight is needed to ensure the safety of the operation."
A second shipment of another 2,500 poles and additional equipment is expected in the territory within two weeks.
WAPA emergency call centers on St. Thomas & St. Croix are operating on a 9 a.m. to 5 p.m. schedule. The call centers are the primary means by which customers can advise the authority of isolated service interruptions once crews have carried out restoration work. The call center operating hours will be adjusted as restoration into neighborhoods and communities takes shape, the utility said.
The numbers for the emergency call centers are: St. Croix, 340-773-0150; and St. Thomas–St. John, 340-774-1424.
In other hurricane restoration news, WAPA reported:
– An additional fourteen linemen will arrive on island by Friday from the Western Area Power Administration. The mutual aid linemen will join eight linemen who have been on island since last weekend. Equipment for these linemen is expected on island this weekend.
– Work continued on St. Croix Thursday to restore service to additional portions of downtown Christiansted and Frederiksted. WAPA anticipates service will be restored to customers on Church and Company Streets in Christiansted by the weekend.
Additional poles were planted on the path of Feeder 8B toward Frederiksted town.
– On St. Thomas, restoration crews continued work on a portion of Feeder 6B as well as Feeder 6A. Crews planted and dressed additional poles along the feeder route up to UVI. Re-energizing a portion of Feeder 6A will allow for the restoration of service to UVI campus, VIPA fire station and FAA control tower.
Additional work was done Thursday in Sugar Estate and on Norre Gade, where WAPA hopes to energize the Superior Court, V.I. Police Department and Bureau of Corrections by weekend.
Work is also ongoing planting new poles on the paths of Feeders 7A and 8A. The authority is also assessing the potential of undergrounding portions of Feeders 9A and 10A. The undergrounding would include critical facilities such as Crown Bay Marina, shipping companies, VIPA's Sand Fill, the Department of Public Works and the potable water standpipe in Subbase.
– St. John crews continue to work in the Cruz Bay area planting new poles from the roundabout toward the Myrah Keating Smith Health Clinic.
– In both districts, power plant operations are returning to normal with personnel expected to resume work on projects that were underway before the passage of Hurricane Irma on Sept. 6. Two units are online at the Harley power plant on St. Thomas, with another available. On St. Croix at the Estate Richmond power plant, there is one unit on line and another available.
– WAPA continues to work jointly with Viya, the Virgin Islands Waste Management Authority, and the Department of Public Works on a clean-up initiative across the territory.
– WAPA reminded customers of their responsibility to ensure their meter base and weather head are ready to have electrical service restored following the hurricanes. WAPA is not responsible for, and cannot carry out repairs to weather heads and meter bases.
Potable Water System
– There are four days of emergency water storage on St. John. Water service is available throughout Cruz Bay.
– There are also four days of emergency water storage, or about 10.6 million gallons, on St. Thomas. Storage is building slowly and WAPA is finalizing repairs to the weather head at the Bergs Home pump station. Potable water service to the Hospital Ground area will be restored either Thursday night or Friday morning. Customers in Savan, Altona and at Contant Knolls will have their service restored when more pump stations are re-energized.
– On St. Croix, storage at the Richmond tank has increased to a four-day water supply, or 8.5 million gallons. The Richmond, Contentment and Concordia pump stations are on line. Water service continues to make its way slowly toward Frederiksted, as the system becomes pressurized. Water maintenance workers are surveying and repairing leaks daily.