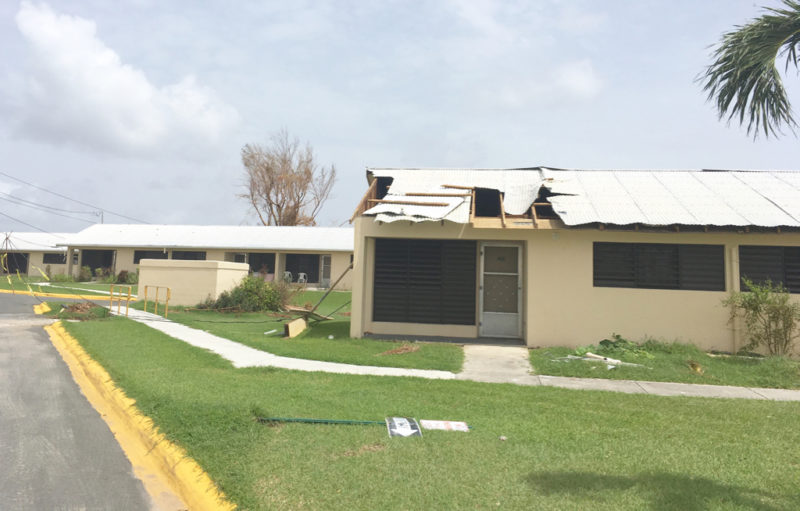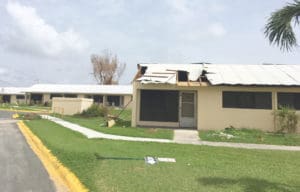 One of St. Croix's populations hardest hit by Hurricane Maria was the senior population, and residents of the senior apartment complex, Lutheran Social Services' Flamboyant Gardens, were reportedly close to running out of food and water.
While employees on Tuesday said rumors that the facility had already run out of supplies are false, but admitted that there could be a shortage as soon as Wednesday.
Government officials said Tuesday supplies will be delivered to the facility, where the residents have difficulty getting around on the hurricane-battered islands.
A visual inspection of the facility Tuesday showed that some of the apartment buildings lost roofs during the storm, and garbage has not been picked up since Hurricane Maria hit. Usually, GT Trucking picks up the waste but employees at Flamboyant Gardens did not know when the next pick up would be.
The biggest challenge is that the distribution points for water and military MRE meals are at four locations on St. Croix, have only infrequently been brought to the facility. On Saturday, the fire department delivered water and MREs to Flamboyant Gardens so that residents did not have to physically to go to any distribution point, but there were no such deliveries on Monday or Tuesday.
Normally, residents would get their own meals. Flamboyant Gardens is an independent-living facility, providing help only for such tasks as laundry or cooking and a nursing service a few days a week. There is a bus available that takes residents of Flamboyant Gardens to the grocery store. But post-Maria, the bus has a hard time passing the debris-clogged roads, so bringing water and MREs to the residents rather than them going to the distribution points is crucial.
Carol Burke, public information officer at the Department of Human Services, said that as of Monday her office has its "boots on the ground." The DHS does provide a meals-on-wheels program for seniors, but it is up to the senior to register for the program.
Meanwhile, employees of Flamboyant Gardens hope that, just as in the in the aftermath of Hurricane Hugo, the distribution of water and MREs will be made to facilities and estates, as they were on Saturday, rather than expecting the elderly to go to and wait in line at distribution points during very hot September afternoons.
Speaking at Gov. Kenneth Mapp's Tuesday press press conference, Virgin Islands Fire Service Director Clifford Joseph, said water and MREs were going to be delivered to Flamboyant Gardens Wednesday.