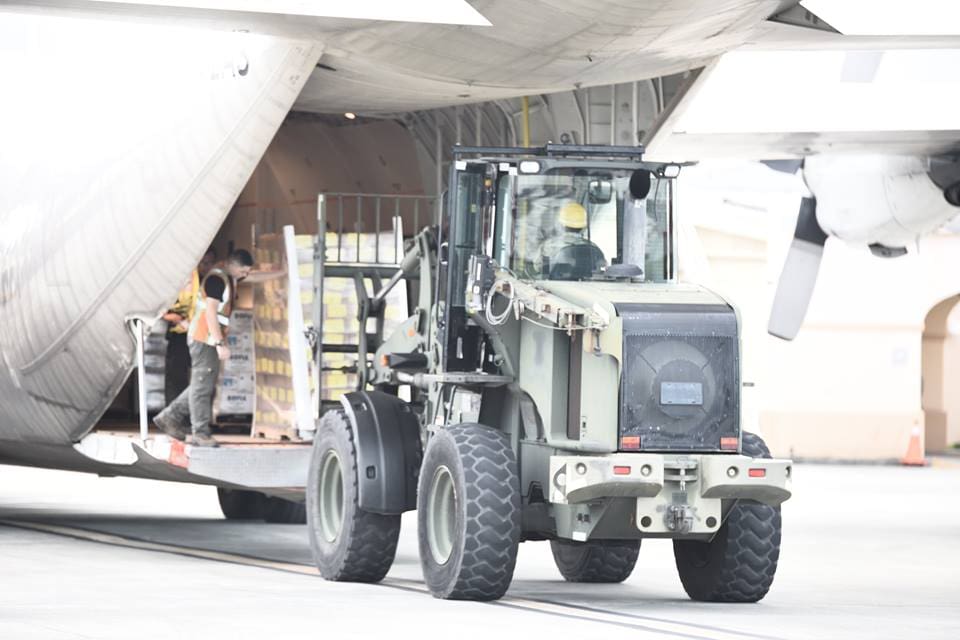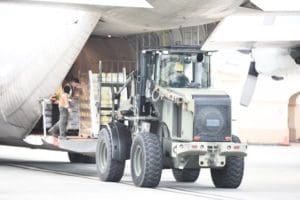 Although still closed to private traffic, military flights are already bringing in supplies to Hurricane Maria-stricken St. Croix. And the truck rack at Limetree Bay Terminals is up and running, so gasoline and diesel should continue to be available. Tarps are beginning to be installed by aid crews. Power has been restored to a few areas on the big island, but it will be a long time before service is widespread, as lines are down all over.
The V.I. National Guard unloaded supplies from large military transport planes on St. Croix Friday. The supplies will be handed out to the community at VITEMA designated distribution points, according to the National Guard.
Limetree Bay issued a statement Saturday saying their teams continue to assess any damage to allow for a safe restart of operations and the reopening of the docks as soon as possible. The company reported the truck rack resumed operations at noon, Friday, so tanker trucks are able to fill up and replenish St. Croix gas stations.
They are also working to re-establish contact with all their employees to make sure everyone is safe. The company reports that no one was hurt at their facility during the storm and that there was "no consequential impact to the environment."
The U.S. Coast Guard reports several ports are now open. The East Gregerie and West Gregerie Channels in Crown Bay, St. Thomas are open. The Homeport Pier, Crowley and Tropical Shipping docks in Crown Bay are also open.The West Indian Company Dock on St Thomas is open. The Krause Lagoon and Lime Tree Bay in St. Croix are open. Other ports remain closed.
The open ports are restricted to vessels with drafts of less than 45 feet and are open only during the day.
FEMA reports its contractors installed the first temporary roof made of blue plastic sheeting Saturday on St. Thomas.
The program, available to qualified homeowners and known as Operation Blue Roof, can make some damaged structures habitable again until more permanent repairs can be made, according to FEMA. It is free, so anyone asking for money is scamming.
"Operation Blue Roof allows short-term relief, and makes it possible for residents to stay in their homes while exploring permanent roof replacement options," Brig. Gen. Diana Holland, the commander of the U.S. Army Corps of Engineers, South Atlantic Division, said in a statement from FEMA.
The program is for primary residences, or occupied rental properties that can be repaired with plywood, plastic sheeting, and in some cases a minor amount of rafter replacement or repair. Vacation rental properties and commercial properties are not eligible for the program. Not all roof types qualify for the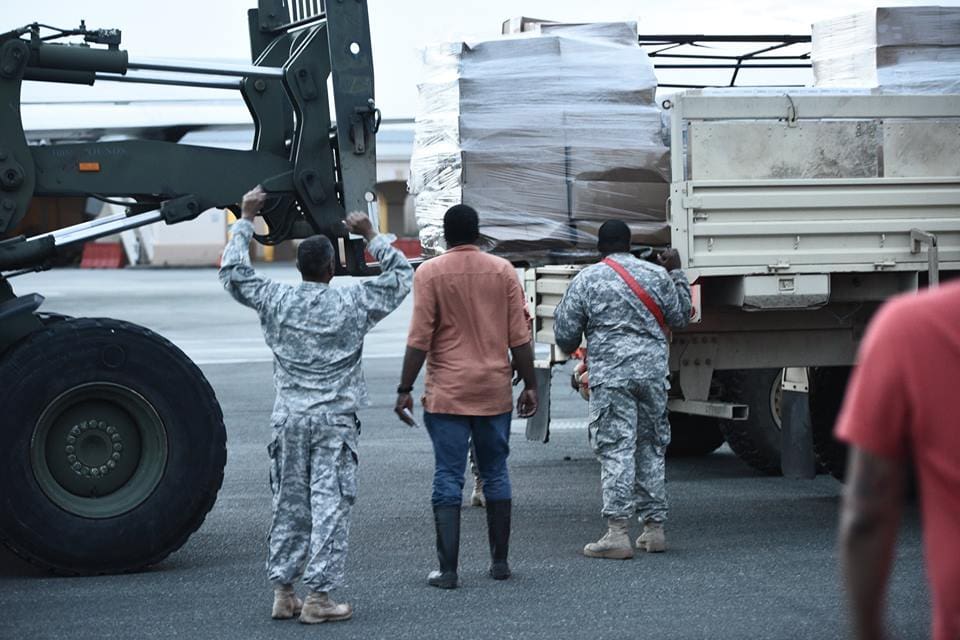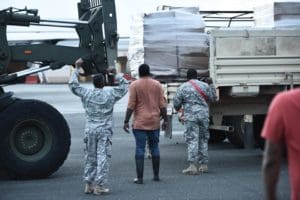 program.
To be eligible, the structure has to be the primary residence and have at least half its roof framing intact. Only property owners can request the service. The resident has to stay in the shelter.
Roofs have to be composed of standard roof shingles, corrugated metal or a similar material which lends itself towards temporary repair with plastic sheeting. Mobile Homes will be assessed on a case by case basis.