The U.S. Coast Guard began evacuating residents from Coral Bay Monday morning, according to the Federal Emergency Management, as a hurricane warning was issued for the U.S. Virgin Islands in advance of a steadily strengthening Hurricane Maria bearing down on the territory.
The National Hurricane Center reported at its 11 a.m. update that Hurricane Maria will affect portions of the Leeward Islands and the Virgin Islands as an extremely dangerous major hurricane during the next couple of days, and hurricane warnings are in effect for many of these islands. The forecast now calls for it to reach category four before striking the territory.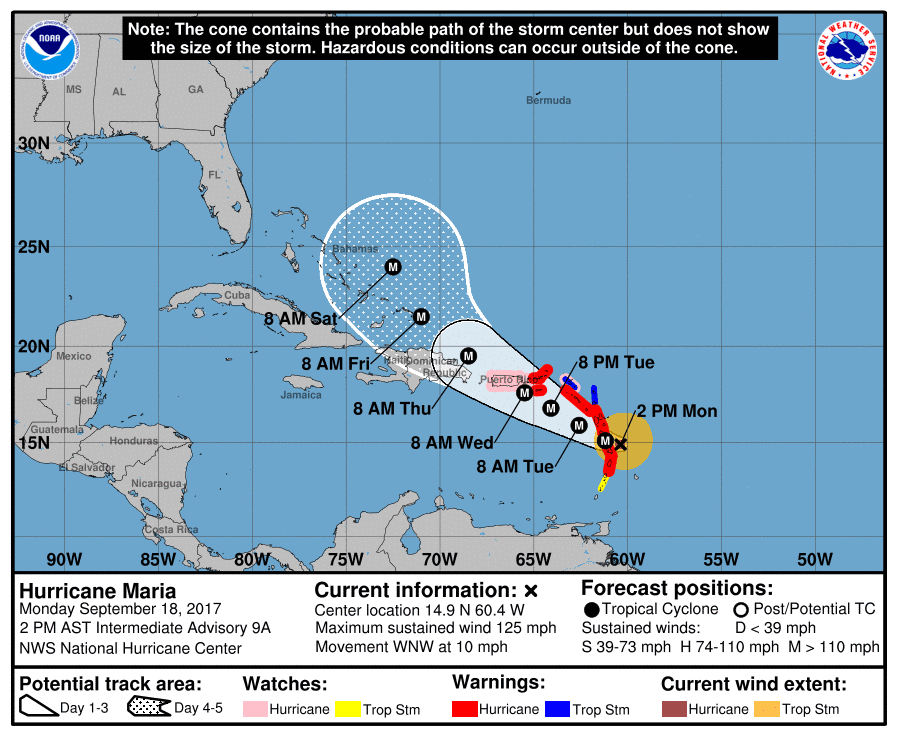 The potential for a life-threatening storm surge, accompanied by large and destructive waves, has increased for the Leeward Islands, the Virgin Islands, and Puerto Rico," the NHC said.
The Coast Guard's action was announced at the morning FEMA meeting.
Ernest Matthias, the deputy fire chief for St. John, said officials are looking for additional shelters on the island. He also said people who remain on the island should store at least three days of food and water.
Incident commander Jon Bergeron observed that if Maria stays on its current path, the islands will be affected by the right side of the storm, which increase the chance of storm surge.
Matt Gyuraki, one of the volunteers who helped set up a communication network on St. John said Monday he will wait until the last minute to take down the equipment in the face of the coming storm.