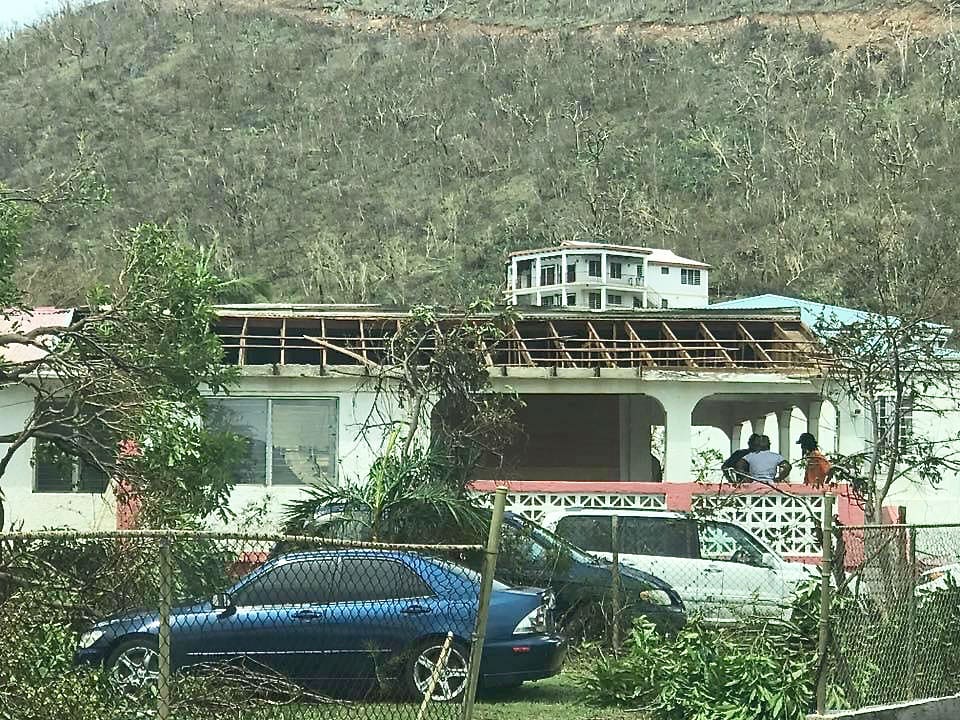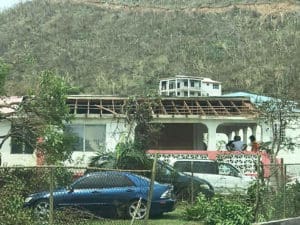 The picture has really changed in St. John as of Saturday and not in a good way as the island's storm-battered residents anticipate more bad weather.
"I'm not trying to be an alarmist but there is a tropical depression 900 miles to the east, with a 90 percent chance of developing to anything between a tropical depression and a category 2 storm," said Navy Commander Jeffrey Grant of the USS Oak Hill, the first Navy vessel to arrive at St. John after Hurricane Irma.
Grant told the gathered St. Johnians his ship is a shallow-bottomed vessel not suited for a serious storm. So they are going south to get out of the path of the storm and hope to be the first vessel to come back when things settle down.
Grant said there will be nothing but rain all next week through Saturday and another tropical depression may arrive after that.
The Oak Hill is heading South as early as Tuesday.
He said the big concern for the island is heavy rain and mudslides; falling rocks and guts that are clogged with debris filling up then suddenly breaching and causing flooding.
Peter Hassan from St. John Rescue said a big concern for the island is heavy rain and mudslides; falling rocks and guts that are clogged with debris filling up then suddenly breaching and causing flooding.
Attley Connor, the Public Works Department supervisor on St. John, said they have figured out where some of the drainage guts are blocked and crews will concentrate on those spots.
Some asked if St. John would be evacuated. John Covell, the FEMA official who headed the Hurricane Sandy relief effort, said that was a decision for the governor, not FEMA. He said he and most FEMA personnel would stay during and after the coming bad weather. (At his 5 p.m. Saturday update, Gov. Kenneth Mapp said there is no evacuation order for St. John.)
Another meeting is planned for 5 p.m. to discuss the weather situation in more detail.
The V.I. National Park has decided to pull out all nonessential personnel because of the lack of housing and impending weather, said Jon Bergeron. Bergeron had been VITEMA incident commander on St. John but with VITEMA and FEMA working more together as a team now, he is more focused on the National Park. Essential employees like law enforcement and maintenance will stay onsite for the Park Service, he said.
Richard Wilde with former New York Mayor Michael Bloomberg's group, said his people are working on procuring and placing generators on the island.
There are plenty of vehicles on the island, but gas is in short supply, so the relief teams are working to use vehicles efficiently.
Garbage is being barged off the island. It has been accumulating, with a lot of tires, old refrigerators, washing machines and now there are dead animals piling up too.
Covell said his people are working on generators for the fire stations in Cruz Bay and Coral Bay. The Coral Bay fire station is where all the FEMA tarps, food, water, paper towels and other supplies are being distributed.
Tarps are in short supply. There were no tarps distributed until the sixth day after Hurricane Irma. Some buildings have tarps and perhaps 200 tarps have been distributed to date. Two days ago, officials said the priority would be to put tarps onto Julius Sprauve Elementary School, which is the island's storm shelter. But as of Saturday, no more were being distributed and officials said the Army Corps of Engineers would be putting up tarps onto buildings instead.
But V.I. Emergency Operations Command has indicated all available tarps have been distributed and as of Saturday afternoon, the next shipment of tarps was delayed.
The number of people staying at the shelter at Sprauve has shrunk to 38, according to Covell, down from a peak of perhaps 70 or 80.
The first few nights at the shelter were bedlam, with no functioning toilets and no generator. But Deverell Alfred, who cooks at Sprauve, showed up, flipped some switches and started feeding people.
Some say the planning was not sufficient.
"In my mind they didn't plan ahead for St. John," a man who asked not to be named said. The man worked in a high government post in a previous hurricane. He said that in prior years a Red Cross person would start training shelter managers in June "but that did not happen this year."
Some Businesses Running
One good thing, is there is no food shortage on St. John. Starfish Market is getting in bulk goods Saturday and they have been taking local checks and cash.
Some residents have been concerned that they do not have local checks nor cash and no banks on St. John are open yet. With ferries running three runs a day, some have managed to travel to St. Thomas and get to a bank. But that is difficult and expensive.
According to Covell, the relief team is hoping to bring in some portable ATM machines along with armed guards to secure them.
The managers of Dolphin Market said Saturday they are getting fresh produce Saturday. Fresh produce has gotten very scarce. Stores have cabbage and maybe some carrots, but all the lettuce is bad. But there is no shortage of food.
Covell urged residents to go to local businesses.
"If we don't patronize our local hotels, restaurants and food stores, they won't be here when it is over," Covell said.
Ferries have been departing at 10 a.m., noon and 3 p.m. from St. John and returning from St. Thomas at 1:30 p.m., 3:30 p.m. and 5:30 p.m. but that is subject to change.
There is limited gasoline. E & C Gas was pumping diesel Saturday for the first time since the storm. But the booth that controls the regular pumps was blown away so even though they have a supply of gas, they have not been able to operate the pumps yet.
Caneel Bay Boatyard has been selling gas. The line can be long.for vehicles, but you can walk in right away with a gas can.
FEMA has contracted two restaurants to serve free takeout meals per day to all comers: The Longboard and The Landing. There will be two free meals a day for 30 days two meals per day starting Monday.
Two other restaurants have been serving a lot of free food: 420 to Center has been serving food all day. The Dog House has been open pretty much every other day.
Ice is limited. There is some ice going to come from Caneel Bay Resort but they are just supplying VITEMA with the ice to distributed. They made 200 bags of ice for distributing Saturday through FEMA.
Search and rescue is winding down
Covell said urban search and rescue team left the islands either Thursday or Friday and they were 95 percent confident they had found anyone who might have been unable to get out of their homes. But local St. John Rescue is still on island, checking a few spots just in case.
Everyone is being urged not to swim in the ocean until the Coast Guard has a chance to check on the water quality.
Mosquito protection is important now, as Covell said mosquitoes are supposed to start blowing in today, having bred in the standing water after the recent heavy rains.
Residents are being told water from the tap is not safe to drink yet and to use bottled water for drinking until they hear otherwise.
The public restroom situation is rather dire. There were bathrooms open to the public at the National Park visitor center but they were not working Saturday morning. They do have some portable toilets though. Part of the problem with toilets and water is that generators are operating the pumping facilities into the sewage treatment plant and the pumps are not necessarily able to keep up with the demand, Grant said.
Good news for locals
Cruz Bay Family Practice is open, Dr. Scott Hartshorn is in today. The owner of Red Hook Family Practice Dr. Siri Akal will be seeing patients 9-2 on Sunday.
Urgent or regular care and medical evacuations are being conducted at Myah Keating Smith Community Health Clinic. Curfew does not apply to medical emergencies.
Cruz Bay Family Practice will have a massage therapist – Angela Alfieri – who will be giving massages Saturday and Sunday and is taking donations. 9 a.m. to 1 p.m.
Western Union opened yesterday at Connections Virgin Islands Communications Center, so St. Johnians can have money wired in now. People can send money to St. John free of charge just as long as they make it clear that it is going to someone in the Virgin Islands, according to Cid Hamling, owner of Connections.
In order to pick up Western Union, you have to show an ID, or answer a test question from the sender.
Gifft Hill School had a staff meeting Friday and is ready to open next week at the lower school. Classrooms are fine and they are taking donations. Sprauve School is not opening yet and the Department of Education has not yet set a date for school opening in either St. Thomas or St. John.
Many Evacuate
About 700 people have evacuated the island to St. Croix and Puerto Rico, ferried for free on charter boats organized by Puerto Rico's East Islands Excursions and St. Croix's Sea Adventures, with help from many other private vessels. More may have left by ferry now that the ferry is running again.
Those who leave should bring a passport and St. John residents should be sure to bring some sort of proof of residency for their return.
If you have to evacuate and cannot bring your pet, you can bring your pet to Canines Cats and Critters, but make sure you bring a picture of your pet and a forwarding address, according to Dr. Heidi Stout.
People are leaving because they cannot afford to stay or have no place to stay.
"I worked in a restaurant cooking, but now the restaurant is closed and my children have no school," Maria Almonte, who has lived on St. John for 15 years, said. She is on a list to leave. She has children age 15 and 16 going to Eudora Kean High School and a 20 year old at UVI. She said she will try to find them a place back in the Dominica Republic and come back as soon as there is work.
"I feel so bad," Almonte said.
Two men who were leaving said they have no place to live.
"We have a mosquito net and that is it," one said. They declined to give there names. One does inventory maintenance for an operation with many stores throughout the Caribbean. He will be working remotely from Colorado.
Source reporter Amy Roberts lives in the Coral Bay area and reported via cell phone.