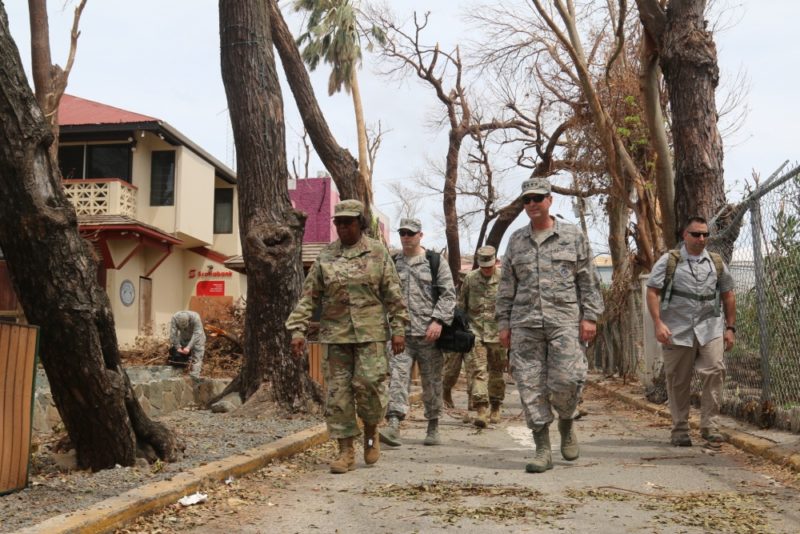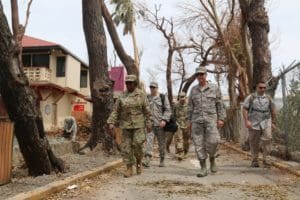 As an aid to military members and their families affected by Hurricane Irma in the Virgin Islands, the V.I. National Guard (VING) Family Assistance Center (FAC) opens on St. Croix on Thursday, Sept. 14. Military retirees and Family Readiness Group (FRG) volunteers are welcome to receive family assistance services, too.
The St. Croix FAC is in the Lt. Col. Lionel A. Jackson Readiness Center (formerly known as the 104th Troop Command Armory) on the Estate Bethlehem military installation. Location and hours for the St. Thomas FAC will provided soon.
Hours of operation are:
Monday through Friday from 8a.m. to 5 p.m.
Saturday from 8 a.m. to 2 p.m.
During the territorial disaster and activation, the VING Family Assistance Center provides assistance, services, resources or referrals for crisis intervention, legal, medical, financial and outreach. The FAC points of contact are Sheneal Patrick at 712-8023 and Shinelle Watts-McIntosh at 712-8020. After hours, the emergency point of contact is Linda M. Todman at 332-3752.
The National Guard Family Program exists for the sole purpose of supporting and educating families along the path of their National Guard life. In each of the 54 states and territories, there is a State Family Program director and Family Program coordinators in support of the families.
There are also Family Readiness Groups/Key Volunteer Groups, Family Readiness Assistants and Family Assistance staff, where a family member can take full advantage of any-and-all services available. www.vi.ngb.army.mil