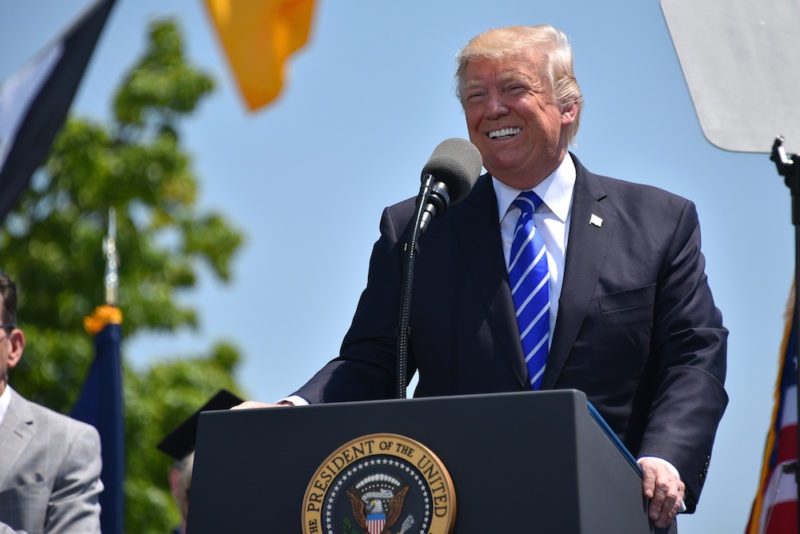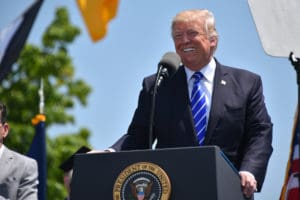 President Donald Trump is going to visit the territory in a week or so, Gov. Kenneth Mapp said at a press conference Monday evening.
Mapp said he spoke to Trump on the phone and the president assured him the territory would be "in his list" of places to get relief.
"The president asked me to tell the people of the Virgin Islands that within the next six or seven days he will be in the U.S. Virgin Islands to see first-hand the damages to the territory and to get on the ground reports on the federal operations to ensure that the people of the Virgin Islands are receiving recovery as fast as humanly possible," Mapp said, adding that "we are not sure he will be able to make it around the island," but his presence will be welcome.
The governor spoke about relief efforts and two cruise ships scheduled to pick up evacuees on St. Thomas Tuesday. He also announced that V.I. government employees will start 20 hour work weeks to begin next Monday for those on paid administrative leave since Hurricane Irma struck. Many will relieve public employees who have performed during and after the storm, he said.
Mapp also said the U.S. Department of Interior has expedited release of $223 million of rum excise revenue to the V.I.
While a substantial sum, it may amount to much less than that in practice. The V.I. Government has previously contracted to give more than 46 percent, or more than $103 million of that directly to Diageo and Beam Suntory, the owners of St. Croix's two distilleries, to match similar levels of cash support in Puerto Rico. According to Mapp's proposed FY 2018 budget, another $86.1 million is budgeted for V.I. Public Finance Authority debt secured by the rum revenues- a figure in line with past years. And another $23.2 million of that funding, not included in the official budget, is slated to debt service on special bonds for building the Diageo distillery and improvements at the Cruzan Rum distillery. That last payment is not reflected in the USVI government budget.
The V.I. government does not consider it an official debt because it is secured solely by rum revenues but it is nonetheless paid out of federal funds that would otherwise go to the USVI treasury. So roughly $202 million will not go to the V.I. General Fund, unless there is some change to the current contractual arrangements. That would leave only about $21 million actually going to the local government's coffers.
Sen. Kurt Vialet announced Tuesday that budget hearings are postponed indefinitely due to the emergency situation. Mapp's 2018 budget proposal envisioned about $16 million going to the V.I. General fund.
Mapp said Monday the U.S. Army Corps of Engineers will lead debris removal operations. Landfill restrictions require that debris be stored temporarily in recreational fields. He said the storm debris will have to be removed from territory by barge and the government has contacted two or more potential vendors to do so.
Mapp may call a special session of the Legislature to again consider legislation for source separation and recycling, he said, adding that about 70 percent of the territory's waste could be shipped off for recycling at little to no cost if it were separated appropriately.