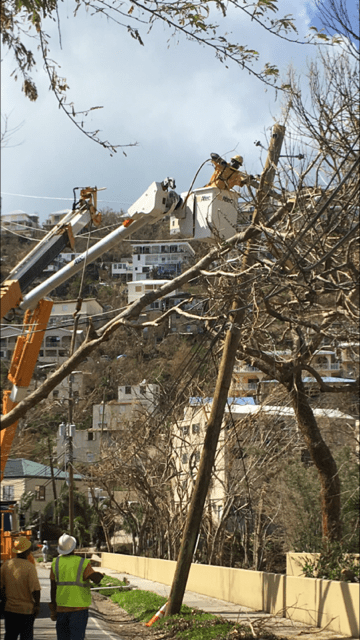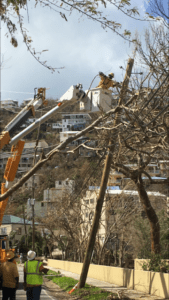 Help continues to pour in to St. John, including a military contingent that came ashore, accompanied by a FEMA official with experience in rebuilding after a hurricane.
John Covell came ashore with a group from the U.S. Navy dock landing ship USS Oak Hill. Covell has been director of New York City's Hurricane Sandy Recovery Office.
What role, if any, he will play as St. John works to recover after being battered by Hurricane Irma was not detailed.
Also coming ashore was Brenda Tenney, the incident Response Coordinator for the U.S. Department of Health and Human Services. She brought with her a medical team that includes doctors, nurses, a nurse practitioner, and two medics. The medical team also comes with its own security force.
Oak Hill brought with it equipment and materials for clearing debris, including front-end loaders and dump trucks.
Another Navy ship, USS Kearsage, also arrived at St. John Monday. Kearsage is an amphibious assault vessel carrying a large shipment of relief supplies.
The military contingent flocking to the territory to aid in recovery from the historically destructive Irma now includes the Navy, the Army, the Marine Corp, and the Coast Guard.
"It's very nice when a Marine colonel walks in and says 'What do you want?'" said John Bergeron, VITEMA incident commander on St. John.
The Army is assisting with the assessment of the island's power system and helping clear debris from Centerline Road.
St. John's Animal Care Center received welcome support from the Society for the Prevention of Cruelty to Animals. The donations included crates to get the animals under ACC's care off island and pet food.
The V.I. Territorial Emergency Management Agency distributed emergency supplies again Tuesday at the Coral Bay fire station, and this time there were tarps – for a while. The supply of tarps quickly ran out, but officials said more were on the way.
The V.I. Next Generation Network has a Wi-Fi connection set up near the Boulon Center in Cruz Bay. Setting up a second Wi-Fi hot spot, this one in Coral Bay, is viNGN's next priority. The east end community has been without any kind of connection to the outside world since the storm hit.
Antonio "Pumpkin" Lewis, manager for plant operations for Viya, said the V.I. telecommunications company is three quarters of the way to having cell service on the island. They thought they had it repaired and ready Monday night, but Tuesday morning found that a cable had been cut. He predicted it should be up Wednesday.
An inspection of the cell phone tower atop Bordeaux Mountain determined that the structure of the tower itself is solid. Unfortunately, the equipment on the tower is either blown away or destroyed.
On the lower end of the technology scale, an elaborate message board has been set up in front of Connections, the Cruz Bay mail center that is open from 9 a.m. to 2 p.m. The message board includes a large number of Spanish language messages.
Cruz Bay Family Practice, which is open daily from 9 a.m. to 2 p.m., has a nurse practitioner on site. The practice said people should use the entrance from the second floor of the adjacent hardware store.
The practice requested that anyone who needs a prescription filled should try to bring the original bottle, and added that they can also provide a medical note for people who are traveling who need a comfort animal.
Deputy Fire Chief Ernest Mathias said that many boats that had been tied up in Coral Bay have ended up in the mangroves, but that many appear to be salvageable.
While it seems as if the suffering and damage to the USVI has been lost in the news of Hurricane Irma striking Florida, the territory is beginning to get attention. Gov. Kenneth Mapp visited St. John again Tuesday, dashing across the island in a five-vehicle convoy, lights flashing and siren blowing, he was pursued by a press contingent that included a crew from HBO's "Vice News," the Boston Globe and the Washington Post. Stephanie Guyer-Stevens from Public Radio International reportedly delivered an18-minute report for NPR.
Miles Stair, board president of Gifft Hill School, said the school will have a parents meeting Monday to make decisions about the coming school year, which has been sidetracked by the storm. Stair added that he is open to a conversation with the V.I. Department of Education.
St. John continued to respond to the dire situation with a mixture of determination and humor. One woman said recently, "I would like to send a message to my neighbor. Please come and get your roof."
Elissa Runyon, an unemployed appraiser, said, "I have no interest in leaving. This is my home. But I don't blame people who do want to leave."
Varlack Ventures has changed its schedule for its trips to St. Thomas. The ships are running between Red Hook and Cruz Bay, leaving St. John at noon and 3 p.m., and leaving Red Hook at 1:30 and 5:30 p.m. The boats have limited capacity.