Children were excited and their parents were high-spirited as they brainstormed on projects and solving puzzles at the Virgin Islands Department of Education (VIDE) and the Department of Planning and Natural Resources (DPNR) — Division of Libraries, Archives and Museum's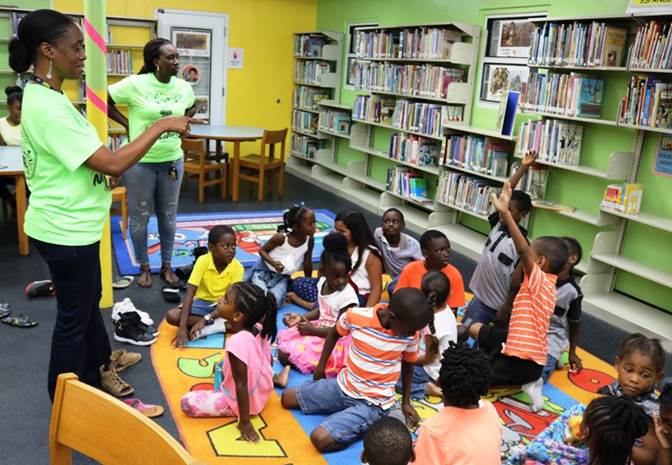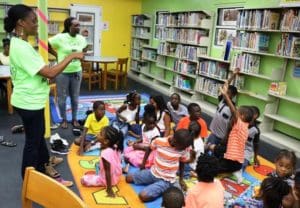 second annual back-to-school Night at the Library that was held Saturday, Aug. 26, at the Florence Williams Public Library on St. Croix.
The event was hosted by Denise Gomes from VIDE's Office of the Commissioner. Superintendent of Schools Colleen Mae Williams along with Deputy Superintendent Faith George-Boone opened the program and actively participated in the educational activities along with parents and students.
With a literacy backdrop in the middle of the public library, the event proved to be a nice prelude to the opening of the 2017-18 school year, especially for the children, who enjoyed an evening of fun and learning.
Marie Chiverton, who came out with her daughter, said the event was impressive. "It allowed for parent-child interaction in a different setting. My daughter enjoyed it and it made me happy," she said. "I was especially thrilled when Ms. Gomes had her (my daughter) call out the winning numbers for the very last raffle."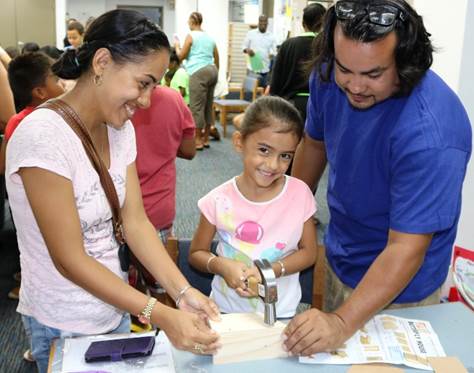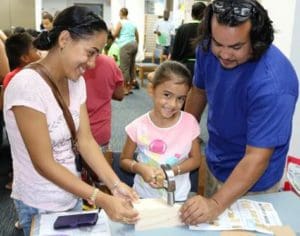 The Chiverton's experience exemplified the general mood of the literacy gathering that brought out mothers, fathers and grandparents. VIDE's Director of Cultural Education Valrica Bryson kicked off the event with a humorous "Bro' Nancy" tale. She held both children and adults in awe as she lashed out hilariously in her heart throbbing story. School District Elementary Programs Coordinator Jeselle Cruse-Peters kept up the pace with the parents, engaging them in games that relaxed the atmosphere and brought everyone together as the youngsters left to participate in fun-filled, educational activities in adjacent rooms of the library.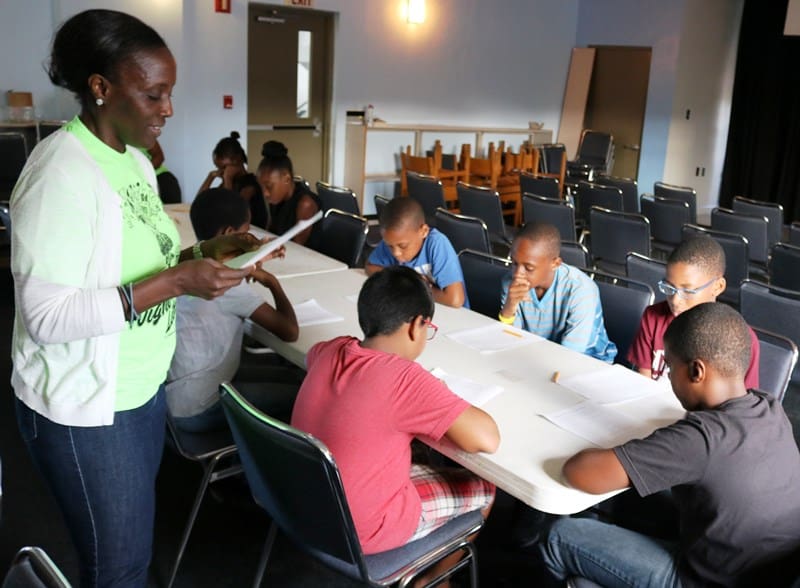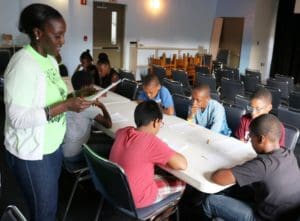 Gomes, with her pre-K to 6th grade students comfortably seated on rugs, touted the importance of good behavior and striving for excellence as she placed the students in the roles of superheroes. After snacks, Assistant Commissioner Chermaine Hobson engaged the youngsters in an American Sign Language lesson of "Twinkle Twinkle Little Star." VIDE's State Teacher of the Year Dinah Browne inspired intermediate students, stimulating their critical thinking abilities; Nichole Samuel Miller also completed a creative writing workshop session with 4th to 6th graders.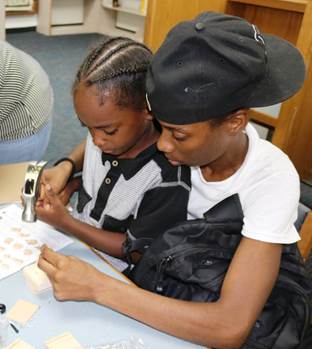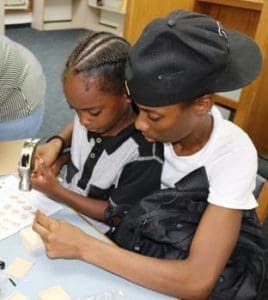 Other presenters and volunteers included Chermaine Hobson, Glenda McKenzie, Alexandria Baltimore-Hookfin, Nichole Miller, Deborah Petersen, Lynel Lynch, Yvette McMahon-Arnold and the staff of DPNR's Division of Libraries, Archives and Museums.
VIYA donated reusable bags and other gifts, while Home Depot supplied materials and tools as part of a Kid's Workshop Kit that parent-child teams used to construct trophies. At the end of the evening, students presented their original work to an audience of their parents and peers.
The family-oriented celebration of literacy supports the 9th Annual Governor's Summer Reading Challenge (GSRC), which challenges students in grades K-6 to read five or more books over the summer.