Students on St. Croix will begun school a week late, kicking off the school year Tuesday after a delay caused by Hurricane Irma.
The Virgin Islands Department of said faculty and staff in the St. Croix District should report for work at their respective locations on Monday, and all school principals are to report to the Curriculum Center at 9 a.m. on Monday for a meeting with the district's leadership.
In the St. Thomas-St. John District conditions are far more complicated as those two islands were severely battered by the category-five storm.
Employees of the VIDE main headquarters, in downtown Charlotte Amalie, are asked to report to work on Monday to assist with the cleanup in the aftermath of Hurricane Irma. t he department urged employees to bring cleaning supplies, if possible.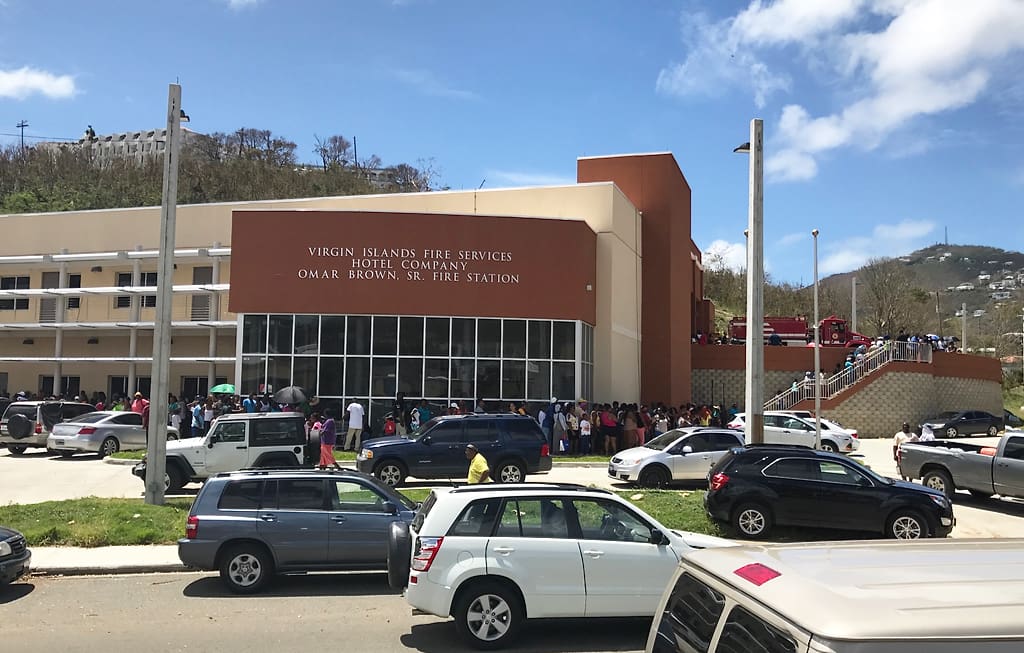 The news of the school opening and delay were highlighted in Gov. Kenneth Mapp's Saturday press conference.
Mapp recounted Saturday's developments as the territory responds in the aftermath of Hurricane Irma. Among the topics Mapp discussed:
– Hurricane Jose is not expected to seriously impact weather in U.S. Virgin Islands.
– FEMA has provided initial relief commodities to isolated St. John by air, as well as meals, water, and roof tarps on St. Thomas, with the assistance of the V.I. National Guard.
– V.I. Water and Power Authority has restored water service to St. Thomas.
– Inmates in detention on St. Thomas will be relocated off island Sunday, to locations undisclosed due to security concerns.
– Evacuation of visitors continues early next week, with anticipated arrival of two ships of the Norwegian Caribbean Cruise Line and Royal Caribbean Cruise Line.
– Government services resume on St. Croix on Monday.
– Clients of the Supplemental Nutrition Assistance Program (SNAP) are eligible for replacement food benefits if without power following Hurricane Irma. Others previously ineligible for SNAP benefits may now qualify for food assistance.
– FEMA has a confirm online process to apply for Individual Assistance under the Federal Disaster Declaration. To apply by telephone, call 1-800-621-3362 from 7 a.m. to 11 p.m. EST seven days per week. Applications can be made online at www.disaterassistance.gov. Mapp announced effort to make possible individual assistance via smartphone to reduce congestion at local offices to be opened.
The Governor on Security:
– Mapp admonished curfew violators for hampering work to restore electricity and other recovery efforts. Three curfew violators have been arrested. he warned that more arrests may be necessary to expedite the recovery process.
– Businesses conducting operations during curfew may face consequence of being shuttered.
– Businesses are also warned against insurance fraud, for example: offering of merchandise 'give-aways' only to later claim looting for insurance purposes.
– Virgin Islands National Guard troops are now actively patrolling with V.I. Police officers on St. Thomas and assisting with commodities distribution.
– Following delay due to concern over weather conditions, a ship has arrived with needed commodities. It was being off-loaded Saturday evening.
– St. Croix's Henry E. Rohlsen airport is a major staging ground for personnel and relief commodities bound for the British Virgin Islands, which also suffered severe hurricane damage. Mapp described it as an "honor" to be able to assist the British Government's relief efforts.
– The governor applauded the U.S. Congress for approving $15.8 billion to FEMA for combined recovery assistance.
Health
– A FEMA Disaster Medical Assistance Team was to establish a temporary hospital outside the Schneider Regional Medical Center.
– V.I. Department of Health nurses are being transported to relieve their counterparts on St. Thomas. Dialysis patients are being transferred to facilities in Puerto Rico.
– The Community Health Clinic is being relocated to the Knud Hansen Complex.
– The Department of Health is establishing a first aid clinic to relieve the still functioning Emergency Room at the Schneider Hospital.
– St. John patients are being transferred to St. Croix temporarily, pending long term relocation with assistance from FEMA.
Charitable Assistance Warning
– The governor advised donors to avoid potentially fraudulent "fund me" solicitations.
– Mapp has appointed a local attorney to establish a special account to receive donations under management of the Community Foundation of the Virgin Islands on St. Thomas and the St. Croix Foundation.
– Offers of donations of skills and labor are to be evaluated and coordinated by VITEMA and FEMA.
– Gov. Mapp reiterated that recovery for St. Thomas and St. John will be a long and continuous process towards restoration.