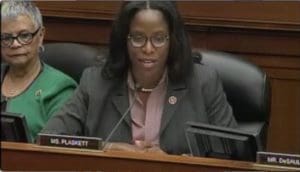 President Trump on Friday signed a bill that provides $15 billion in hurricane relief.
The bill, H.R. 601, the Supplemental Appropriations for Disaster Relief Requirements Act, passed the House Friday on a 316-90 vote, with all the no votes coming from Republicans. On Thursday Senate approved the bill 80-17, again with Republicans supplying all the no votes.
"Today's bipartisan vote in the House was a significant first step in the long road to recovery from the catastrophic destruction caused by Hurricane Irma," Delegate to Congress Stacey Plaskett said.
"Today, my colleagues in the House in voted to approve a vital package that kickstarts the long road to recovery from Hurricane Irma's catastrophic destruction in the Virgin Islands. I was delighted to see bipartisan cooperation to pass legislation that was proudly signed by President Trump."
Plaskett said she had worked to make sure the $15 billion in FEMA funding would not be limited to support for the damage to Texas from Hurricane Harvey.
"We got the commitment that this funding would not be earmarked to Houston but is also available for our islands," she said. The bill also authorizes FEMA to borrow as much as $30.4 billion from the Treasury general fund.
Plaskett cautioned that this measure was just the start of rebuilding the damage caused by the two massive storms ­ Harvey and Irma.
"While I applaud the House for voting to approve this critical package of aid, we know this is just an initial response because much more funding will be needed. I have been assured by House and Senate leadership that indeed additional supplements will be brought forward. I will continue to fight to ensure that the people of the Virgin Islands are not forgotten as we rebuild."