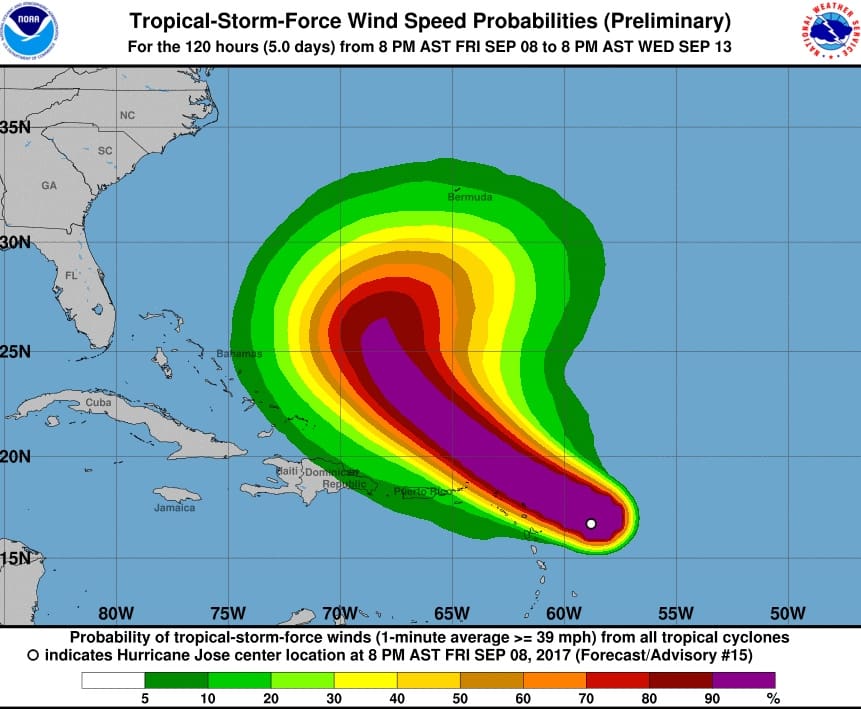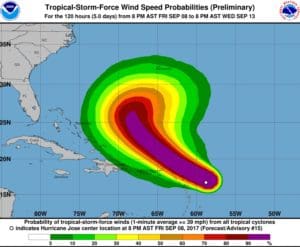 The northeastern Leeward Islands are expected to experience tropical storm conditions by Saturday morning and the Virgin Islands by late Saturday night, as Hurrican Jose, a "powerful" category 4 storm, draws steadily closer to the region. Residents are urged to seek shelter and more shelters are being opened to accommodate those in need.
A tropical storm watch has been called for the territory, effective since 11 a.m. Friday, for the islands of St. Thomas and St. John, which are still struggling to recover from the ravages of Hurricane Irma.
The storm is not expected to impact the territory as significantly as Irma. National Hurricane Center projections show a strong likelihood that it will veer northward and local winds will be neighborhood of 40 miles per hour. But that is enough to cause some damage in the best of times. And many structures are already damaged and missing roofs. Jose will likely bring heavy rain and more flooding too.
According to the National Hurricane Center, the eye of Hurricane Jose was at latitude 16.7 North, longitude 58.8 West, moving west-northwest at almost 17 miles per hour. A gradual turn toward the northwest with a decrease in forward speed is expected to begin overnight and continue through the weekend.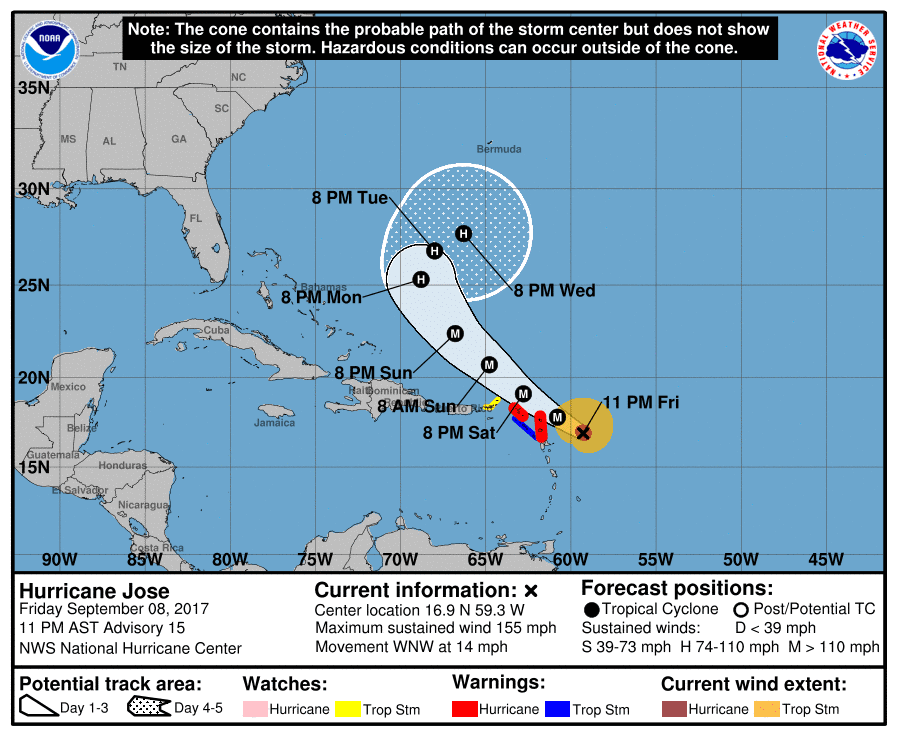 Hurricane-force winds extend outward up to 35 miles from the center and tropical-storm-force winds extend outward up to 140 miles. Jose is expected to produce total rain accumulations of one to three inches over the Virgin Islands and Dominica.Maximum sustained winds are near 150 mph with higher gusts. Some strengthening is forecast during the next 48 hours. Some fluctuations in intensity are possible for the next day or so, and gradual weakening is expected after that.
Gov. Kenneth E. Mapp urged everyone to take all steps possible despite the territory's current difficult conditions to prepare for the anticipated rainfall.
"Residents of the Virgin Islands, know that help is on the way. We will continue to recover and rebuild," Mapp said.
V.I. Emergency Operations Command has updated the list of available shelters. As of Friday night, the following shelter locations are open to house those in need:
— St. Thomas: Lockhart Elementary School; Bertha B. Boschulte Junior High School and Yvonne Bowsky Elementary School. Knud Hansen Complex is open but currently at capacity;
— St. Croix: St. Croix Educational Complex (Opens Saturday at 4 p.m.);
— St. John: Myrah Keating Smith Clinic.
If you intend to seek refuge in a shelter please bring at least a three-day supply of food, water, personal hygiene products, toilet paper, blankets, medications, diapers for infants, sani-wipes, games and toys for children, and personal identification. Additional shelters are being sought out on the island of St. Thomas and St. John.