Hurricane Irma went from being designated a tropical storm on Wednesday to strengthening to a Category 3 Hurricane by Thursday evening, with maximum sustained winds of 115 mph, or 100 knots, as it approaches the mid-Atlantic.
"Irma has become an impressive hurricane with intense eye wall convection surrounding a small eye," the National Hurricane Center said in its 5 p.m. (AST) update.
The NHC noted that in 24 hours the sustained winds increased by a "remarkable" 50 knots.
At the 5 p.m. report, Irma was 720 miles east of the Leeward Islands, or about 1,900 miles east of the Virgin Islands, near 17.3 degrees North, 34.8 degrees west.
Conditions are not likely to slow down the storm or weaken it, the forecast noted.
"Overall, Irma should be in a low-shear environment for several days, with the intensity controlled by eye wall cycles and the moderately warm SSTs (surface temperatures) along the path. Thus the forecast intensity is leveled off for the next two days."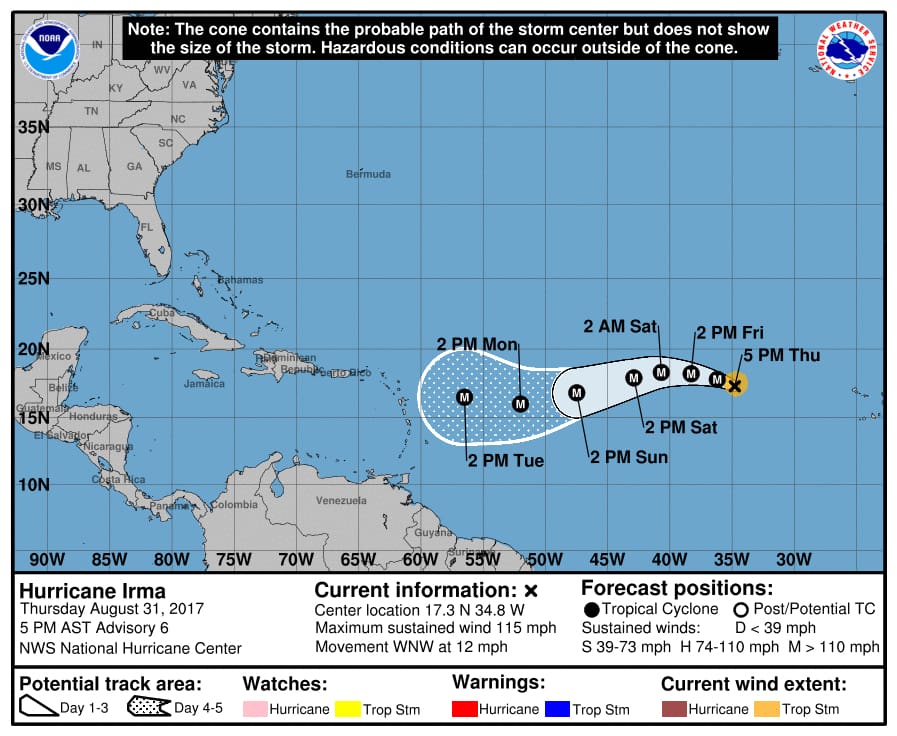 After the weekend, Irma should move over much warmer water, with SSTs forecast to be about 84 degrees Fahrenheit at the end of the period. All indications are for Irma to be strengthening.
Tropical storm force winds extend outward up to 80 miles from the center while hurricane force winds, winds in excess of 74 miles per hour, extend some 15 miles out from the center.
Most hurricane models show the storm passing near or through the Caribbean, possibly turning more to the north before it arrives at the Lesser Antilles around Tuesday, by which time forecasters say it may be a Category 4 storm.
Hurricane Irma has already begun prompting preemptive closings, as Sen. Dwayne M. DeGraff announced Thursday that his office on St. John will be closed Friday due to the impending storm.
DeGraff urged all residents to make preparations to safeguard their families and properties from the storm.
"Thankfully we have been spared from any major hurricanes in the last several years," DeGraff said. "However, we must not take this for granted. Let us listen out for all advisories and take the necessary precautions."
Meanwhile another tropical wave moved off the west coast of Africa and has begun moving westward at about 15 mph.
"Environmental conditions could become more conducive for some development over the weekend while the system moves well south and southwest of the Cabo Verde Islands.
The NHC gave the system, unnamed of of Thursday evening, a 20 percent chance of developing in the next five days.