While the eyes of the nation are focused on Texas and the flooding spawned by Hurricane Harvey, a new system has spun up over the Atlantic that could affect the U.S. Virgin Islands in the coming week.
A system that, at 5 pm. Atlantic time was about 480 miles west of the Cabo Verde Islands, intensified and Wednesday was designated Tropical Storm Irma. The National Hurricane Center said the storm does no currently constitute a threat to land and there are not an coastal watches or warnings in effect, but meteorologists will keep an eye on it as it tracks across the ocean towards the Caribbean.
The system had maximum sustained winds of 60 mph, and minimum central pressure of 1,001 millibars, or 29.56 inches.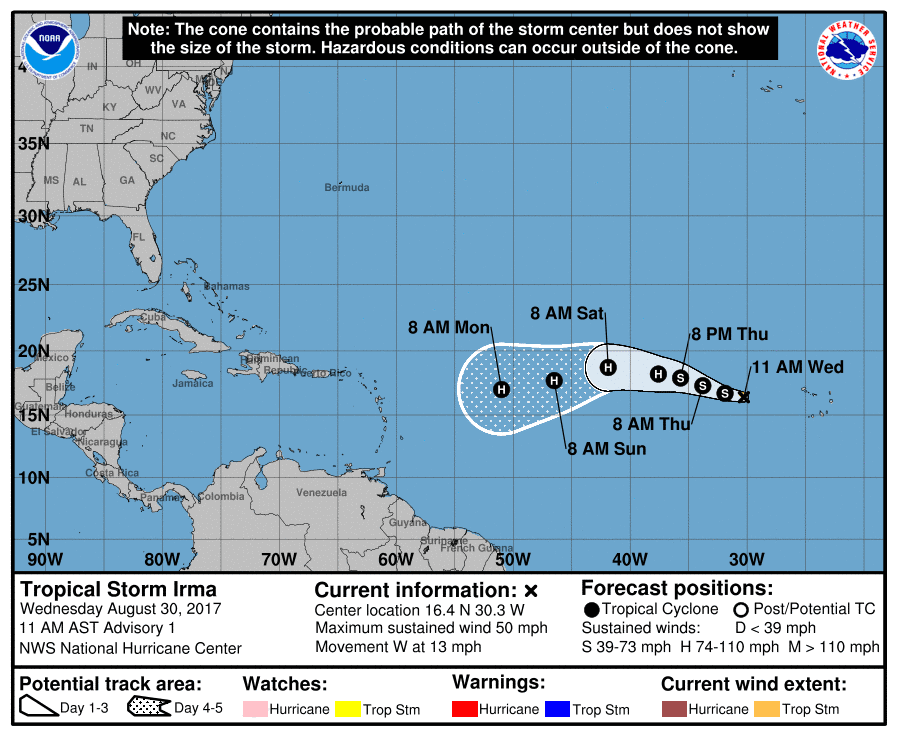 Irma is moving west at 15 mph, the NHC said, and is expected to turn slightly toward the west-northwest at a slower rate of speed for the next couple of days.
Some strengthening is forecast during the next 48 hours and Irma is expected to become a hurricane Thursday or Friday.
Meanwhile, as floodwaters finally begin receding across Texas after the devastating floods brought by Hurricane Harvey, a new system is forming in the southwest corner of the Gulf of Mexico. The NHC gave the system a 20 percent chance of development over the next two