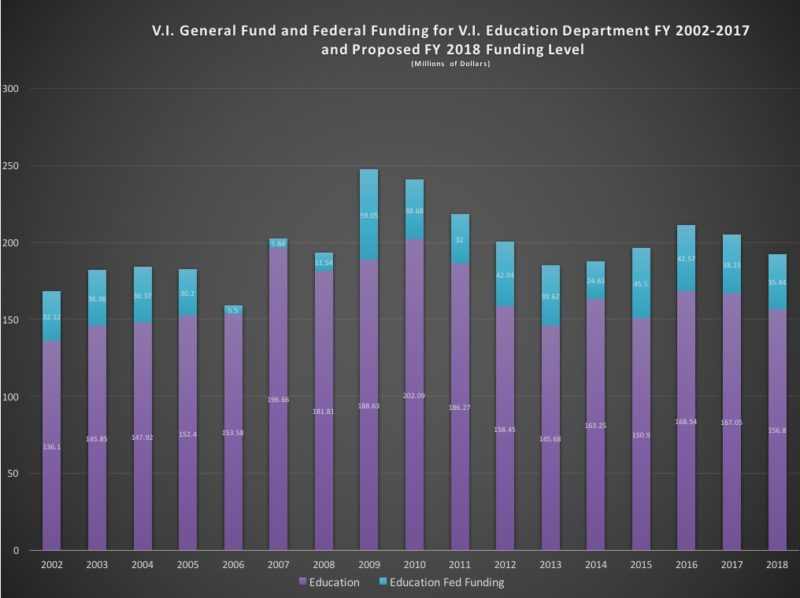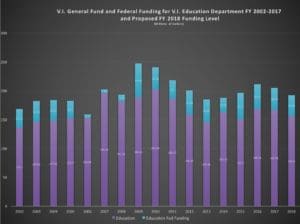 The V.I. Department of Education is looking at a $10.3 million overall reduction in its local General Fund budget for Fiscal Year 2018, to $156.76 million. Instruction, administration, pupil transportation and other areas are seeing cuts. The Office of the Commissioner is slated to see a large increase in funding, according to testimony and documents presented to the Finance Committee during the department's one budget hearing earlier this month.
Funding for the Office of the Commissioner of Education is budgeted at $9.76 million, according to the Legislature's post audit report. That is more than triple its funding two years ago.
Last year, the FY 2017 Education Department budget request included $6.9 million for the Office of the Commissioner. In FY 2016, in Gov. Kenneth Mapp's first budget, the Office of the Commissioner was budgeted at $2.8 million, and in Gov. John deJongh's final budget in FY 2015, it was budgeted at $3.5 million.
In June the Source took a look at the widespread belief that the Department of Education is top heavy, with a bloated management. Looking at how the territory compared to several stateside jurisdictions turned up evidence suggesting the USVI spends a greater proportion of its budget on top administration than many other jurisdictions. But differences in accounting and budgeting formats made a definitive conclusion difficult. That article concluded the Senate does not have adequate time and resources to oversee the Department of Education's spending with a once a year half-day budget hearing (See: The V.I. Budget Crisis, Part 11: Education, Where The Big Spending Is in Related Links below).
Sen. Nereida Rivera-O'Reilly (D-STX) briefly touched on the question of managerial bloat.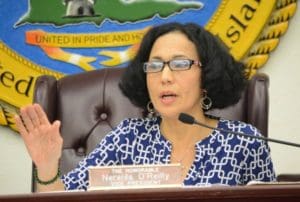 "If I said the department is top heavy is that – would you agree with that statement" O'Reilly asked Education Commissioner Sharon McCollum at the August 18 hearing.
"Before I can agree or disagree I need a definition," McCollum said.
"Top heavy in the sense that we spend a lot of money on administrators and …people who carry around briefcases and not enough resources in teachers and the people who deliver the services to students," O'Reilly said.
"I would say no," McCollum said, without elaborating further.
"You would say no. Ok. " O'Reilly said
In sharp contrast, the budget for fiscal and administrative services is down by more than 30 percent and $10 million for FY 2018, to $18.43 million. Last year it was $28.68 million, up from $24 million in FY 2016 and $23 million in FY 2015.
Sen. Neville James (D-STX) noticed the proportion of the budget spent on fringe benefits appeared higher than most agencies. As senators delved into the question, it came out that apparently that portion of the Education Department Budget may have been off by tens of millions of dollars over the past three years, without anyone noticing.
James said the amount was a sharp drop from the year before, but still high. It was 48 percent of the cost of wages and salaries for FY 2017 but dropped to 43 percent in the FY 2018 budget.
James asked Post Auditor Jose George what was typical and George said most agencies were around 35 to 38 percent.
"Why so high?" James asked.
"This is definitely something we would have to address," Education Department Director of Business Affairs and Budget Control Gerda Sebastien said, adding that she would look into it.
McCollum initially said the number was normal.
"Senator, that has historically always been the case with the department's budget," McCollum said.
"No, not that high," James responded.
Education officials said the numbers were provided by the Office of Management and Budget.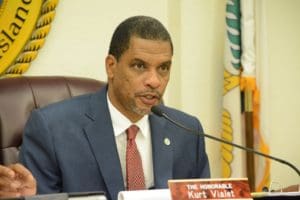 Senators speculated whether the difference could relate to the number of teachers retiring and receiving lump sum payouts.
"These figures are definitely not our figures. We would have to have a conversation with OBM. … I do see how there is a discrepancy from 2015 all the way to 2018. I am not aware of what the discrepancy is," Sebastien said.
"I know a portion includes a lump sum for retirement," Director of Financial Reporting and Program Quality Assurance Muriel Fenton said.
"I agree one of the things we have to take into consideration is the lump sum payment to retirees. … But we will have to discuss this with OMB," Sebastien added.
The $39.96 million in fringe benefits includes $18.67 million for pension payments: federal FICA or Social Security taxes of $5.77 million; Medicare $1.35 million; health insurance premiums of $4 million and Workers Compensation of $190,000.
Historical budget numbers show the ratio of fringe to personnel costs rising slowly, then abruptly shooting up when Mapp took office. Mapp's first budget: FY 2016 budget, submitted in 2015, had $84.7 million for personnel and $42.2 million for fringe or roughly 50 percent. Gov. John deJongh's last budget, for FY 2015, had 40 percent. The year before it was 39 percent. In 2009 it was 34 percent.
Funds to the St. Thomas/St. John Superintendent, for teacher and school system salaries, is $53.6 million, down from $54.2 million last year. St. Croix is similarly down by $1.1 million, at $57.3 million.
The budget for busing students to school decreased sharply, at $4.45 million for FY 2018, down from $7.44 million for FY 2017. The FY 2017 amount was already low compared to many stateside jurisdictions of similar size.
"During the last ten fiscal years, VIDOE has experienced severe budget shortfalls valuing $45,829,588, making it extremely challenging to meet all of the Department's mandatory program needs. This year is no different," Education Commissioner Sharon McCollum said.
For FY2018, the General Fund recommended budget is $156.76 million, down by $10.3 million from last year. The budget breakdown is as follows: $93.08 million for wages and salaries; $39.96 million for fringe benefits; $3.97 million for materials and supplies; $11.49 million for mandatory costs, and $8.25 million for utilities; a $1.75 million reduction from last year.
Sen. Marvin Blyden (D-STT) asked why the utility budget was substantially less this year.
"VIDOE has been diligent in managing electrical and water bills. If needed, supplemental funds can assist with costs," McCollum said. Officials confirmed that energy audits and conservation measures initiated by the previous administration had born fruit too.
Later, Inspector General Steven van Beverhoudt highlighted inaccurate and incomplete financial and food inventory records in the school lunch program.
The territory got $4.9 million in federal funding for the lunch program last year.
From FY 2013 to FY 2016, the Virgin Islands Inspector General conducted an audit report on the School Lunch Program.
"We found that complete, accurate, and current records of receipt, distribution, and warehousing of inventory were not kept. Inventory records were modified or adjusted without proper written justification," Beverhoudt said.
"The audit highlighted several issues with the School Lunch Program. Thus far, what changes has VIDOE implemented?" Sen. Kurt Vialet (D-STX) asked.
"VIDOE has collaborated with the United States Department of Agriculture to train staff on recipe preparation, plate presentation, and customer service."
Beverhoudt shared the Office of the Inspector General FY 2018 budget request of $2 million, down 10 percent from last year. Of that, $1.28 million is for wages and salaries; $461,000 for fringe benefits, $64,952 for supplies, $40,000 for utilities and $180,000 for other services.
No votes were taken at the information gathering budget hearing.
Present were Blyden, James, O'Reilly, Vialet, Sens. Brian Smith (D-At Large), Dwayne DeGraff (D-STT), Tregenza Roach (I-STT). No members were absent. Non-committee members, Sens. Janelle Sarauw (I-STT) and Jean Forde (D-STT) also attended.