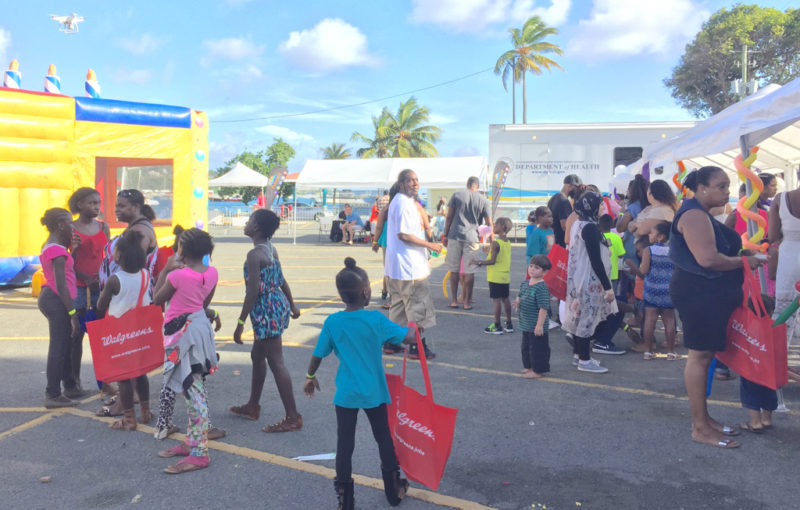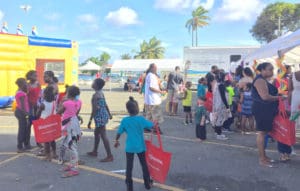 While newly reported cases of Zika virus are on a downward trend in the territory, the V.I. Department of Health held a rally Saturday to remind the public all to remain vigilant in the fight against mosquito bites, which can spread the illness.
Held Saturday afternoon at the Fort Christian parking lot in Charlotte Amalie, the kid-friendly Zika Action Day event drew almost 400 people. Attendees were given Zika information and free Zika prevention products, such as insect repellent and condoms.
"Zika Action Day provides a unique opportunity for us to come together as a community and show our solidarity for Zika prevention and doing what is necessary to stop this virus from spreading," Commissioner of Health Michelle S. Davis said in a statement.
In addition to free activities and treats for children, including bouncy castles and cotton candy, Health officials also quizzed young attendees on their Zika knowledge.
According to Health's communications director Nykole Tyson, the kids were sharp and knew their facts. They could answer questions about how Zika spreads and about prevention methods, such as wearing long sleeves and using repellent.
Tyson said she's impressed by how much the students have learned about Zika in school. Kimisha Stewart, 13 years old, was able to answer that the three D-words related to prevention stand for: Dress, Drain and Defend.
"When we know how to protect ourselves, we can protect pregnant women in the community," Tyson said, adding that three pregnant women were tested for Zika at Health's mobile testing facility during the event.
"Though they are few, we still have new cases and with this season of rain and potential mosquito breeding we need to continue being proactive instead of reactivem" Tyson said.
Zika can cause unborn babies to be born with developmental defects including vision issues and microcephaly, a condition in which an infant's head is smaller than average.
"Although Zika Action Day is a fun event for the family, our purpose is to continue to educate the public about Zika prevention methods and have our pregnant women become more familiar with the free resources that the Department of Health has specifically for them so that they can protect their newborns," Davis said in a statement.
Since the outbreak was first detected in the territory in late January 2016, a total of 1,310 people have tested positive for the virus. Though new cases per week have significantly decreased in 2017, there have been a handful of new cases some weeks.
Last week six new cases of Zika were reported in pregnant women, but these infections didn't happen recently. The results took longer than usual to be returned, since they required additional confirmatory testing.
Shaneel Richards, mother to nine-month year old son Jernee, said she attended the event after hearing it advertised on the radio. She said that while pregnant with her son she was concerned about Zika, but that getting tested for it three times throughout her pregnancy by Health gave her peace of mind.
"The Department of Health did a great job teaching me about Zika and preventive measures," Richards said.
Sponsors of the action day included Walgreens, HH Tire & Battery, Paradise Chiropractic and Wellness Center, and Comprehensive Footcare.
According to Health, people can protect themselves and their families from mosquito bites by following three cautionary measures that start with a D:
– Dress: Wear protective clothing such as long sleeves, long pants and light colors;
– Drain: Get rid of water containers in and around your home;
– Defend: Use repellant on exposed skin and treat clothes with one of several EPA–approved repellants.
Free Zika testing is available for pregnant women regardless of if they are showing symptoms or not and educational materials are being distributed in English and Spanish. Prevention tool kits with items like mosquito nets, insect repellent and condoms are being given to pregnant women at the following locations:
On St. Croix
– Department of Health MCH Clinic
– Department of Health WIC Clinic
– Juan F. Luis Hospital and Medical Center
– Frederiksted Health Center
On St. John
– Health Care Connection
– Myrah Keating Smith Community Health Center
On St. Thomas
– Department of Health MCH Clinic (Pediatric)
– Department of Health Community Health Clinic (Prenatal)
– Roy Lester Schneider Hospital
– East End Medical Center
Local information about Zika virus is available by calling the Department of Health Emergency Operations Center at 340–712–6205. More general information about the Zika virus is available toll free at 1–800–CDC–INFO.
Health is also partnering with several labs and clinics throughout the territory to provide free virus testing for anyone who is showing symptoms. The department said that anyone turned away from testing or told to pay for testing can call Health, since it has agreements in place with several facilities. The following places should not be charging for Zika testing:
On St. Croix:
– Acute Alternative Medical Group, 772–2883.
– Beeston Hill Clinical Lab, 773–4990.
– Clinical Laboratory Inc. (Sunny Isle), 778–5369.
– Frederiksted Health Care, Inc., 772–0260.
– Gov. Juan F. Luis Hospital & Medical Center, 778–6311.
– Primary Care PLLC, 718–7788.
On St. John:
– Myrah Keating Smith Community Health Center, 693–8900.
On St. Thomas:
– Community Medical Laboratory, 776–7444.
– Cranston/Dottin Biomedical Lab, 774–6256.
– Doctors Clinical Laboratory, 774–2760.
– Havensight Medical Laboratory, 774–5515.
– Roy Lester Schneider Hospital, 776–8311.