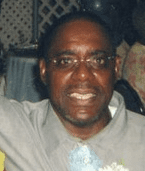 Anthony St. Remy, also known as "Kaboom," of Estate Strawberry Hill died on Thursday, Aug. 17. He was 59 years old.
He is survived by his spouse, Aurelia Joseph-St. Remy; daughters: Monica M. St. Remy and LeShawn A. St. Remy; son, Gabriel St. Remy; adopted son, Leroy Ferdinand; grandchildren: Fatima Al-Obany and Wilfredo Ali Nieves; sisters: Maria Mitchell, Marie St. Remy and Theresa Francis; brothers: Francois St. Remy and Alphonso Abraham; nieces: Christine St. Remy, Francisca St. Remy, Louisa St. Remy, Liesa St. Remy, Sylvia St. Remy and Cynthia St. Remy; nephews: Vaughn St. Remy, Andy St. Remy, Joseph St. Remy, Michael St. Remy and Claude St. Remy; and great nephews: Thellim Aska and Jeshaiah Aska.
He is also survived by great nieces: Tikisha St. Remy, Syrina Prospere and Noreen Prospere; sons-in-law: Rami Al-Obany and Shawnel Walters; brothers-in-law: Junior Joseph, Trevor Joseph, Ali Joseph, Michael Joseph and Shant Joseph; sisters-in-law: Doreen Joseph, Melissa Joseph, Nadia Joseph and Marian Abraham; godson, Jomo Nicholas; special friends: Peter Nicholas, Trevor Henry, Roy Edwards, Jules, Jessey, Decko, Anna St. Rice, Bennedict Charles and Charlene George, Luna Williams and Darius; cousins and other relatives: the St. Remy family, David and Mitchell family, Dora Regis and family; as well as other relatives and friends too numerous to mention.
The viewing will be held at 9 a.m. and the funeral service at 10 a.m., Friday, Sept. 1, at St. Ann's Catholic Church. Interment will follow at Kingshill Cemetery.