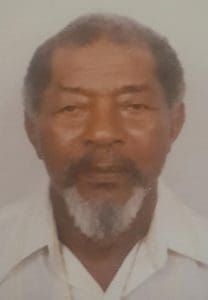 With profound sadness, we announce the death of Oscar Eustace Morris Julius, better known as "Benny," "Miyagi" or "Benny Goodman," Sunrise: Feb. 22, 1932; Sunset: Aug. 9, 2017.
Relatives and friends are respectfully invited to attend the first viewing from 3-5 p.m., Thursday Aug. 24, at Kingshill Funeral Home. The second viewing and tributes will start at 9 a.m., Friday, Aug. 25, at the Friedensthal Moravian Church in Christiansted. Services will follow at 10 a.m. Interment will be at Kingshill Cemetery.
He leaves to mourn his daughters: Kathleen Gumbs and family, Maxine Julius-Bass and family, and Yvette Caseman and family; sons: Garfield "Gary" Charles and family, Elbert "Vince" Daniel and family, Marvin Hughes and family, and Ocano Julius and family; 15 grandchildren: Terry and Xamene Julius, Tremayne and Tyler Gumbs, Regina, Reginald, Omari Daniel, Lynette Taylor Caseman, Markev, Marla and Maranda Hughes, and Isaiah Julius; three great-grandchildren; and sisters: Pearl F. Hodge and family, Lucinda Abbott and family, Calmeta Hughes (deceased) and family, Cynthia Morris (deceased) and family, Carmen "Megan"(deceased) and family.
He is also survived by brothers: Edgar "Eddie" (deceased) and family, Sidney Earl (deceased) and family; sons-in-law: Conrad Gumbs and Joseph Bass; daughters-in-law: Chantel Daniel and Ceya Julius; nieces: Eleta Grovell, Everille and Nevelyn Claxton, Jackie Thomas, Denise Hodge-Missick, Vera, Evetta and Dianne Herbert, Shelley Hughes-Rouse, Yvette Abbott, Ruth Morris, Adette Benjamin, Marva Morris-Niles, Brenda Fraites, Sherry Morris, Evadney Liburd and Bernetta Morton; and nephews: Ishmael Claxton, Jonathan, Joshua and Donville Herbert, Melville and Edmond Hodge Jr., Chesley Benjamin, Jerome, Keith and Dennis "Kawme" Morris, Sheldon Abbott, Kenny and Kelly Gumbs, Arthwell Hughes, Rawl Barnes and Dean Morris.
Other survivors include special cousin and friend, Adolphus "Buddy" Nelson and family; cousins: Cathrine Samuel and family, and Camila Arcibald and family; godchild, Belinda Browne Close; best friend, John De Souza and family; very close friends: Melvin Morton and family, Mr. and Mrs. Brooks and family, Flora George, Elis Hamilton, Anita Henkes, Vernon Lindo, Geraldine Steele, Mr. and Mrs. De Cherbert, Leona Saunders-Potter and family, Bascum Phipps, Alicia Michel and Iris Perderaux, He leaves to mourn many other family and friends too numerous to mention
Our family humbly apologies if during our time grief we have forgotten to mention the names of any family or friends. Please be assured that it was not intentional.
Professional funeral services are entrusted to Kingshill Funeral Home, 303 Clifton Hill, St. Croix. Telephone: (340) 773-3310; Fax: (340) 773-3311; E-mail: [email protected]