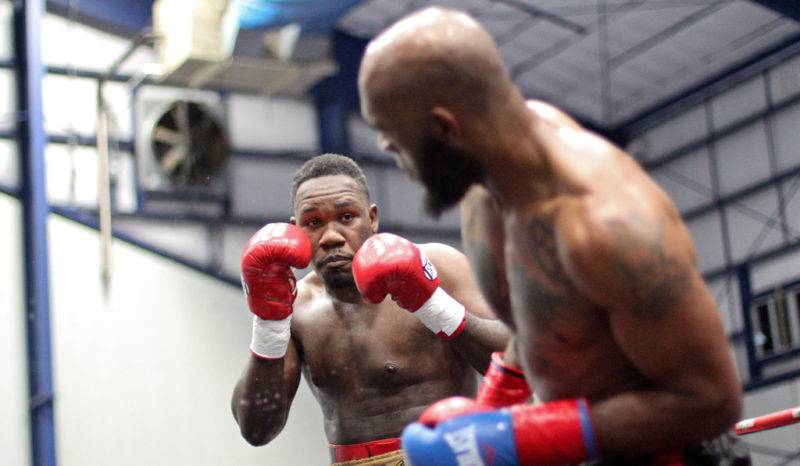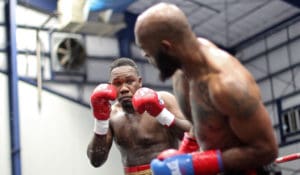 When Clayton Laurent, Jr., met Wayman "The Slim Reaper" Carter, his opponent in his first professional fight, at Friday's weigh-in on St. Thomas, he was impressed by his physique.
"He looks rugged," Laurent said after the two hit the scales and sized each other up. He looks like he came here to fight, and I hope he did, because I'm ready to take him on."
Carter, in return, said just about the same thing about Laurent.
But come fight time Saturday night, it was Laurent who was ready, taking the fight to Carter and stopping him 1:59 into the second round.
Laurent's professional debut was the last of four fights at Antilles School's Mark C. Marin Center. It made a definite impression on the visitor.
"I got to give it to him, with those body shots," Carter conceded after the fight. "I got hit in the head, and I was like, come on. Then he hit the sternum and I was like…" as he put his hands around his torso and doubled over. "That's some power there."
When the two hit the ring in the first round, Laurent took some time to feel out his opponent, leading with jabs, but it wasn't long before he took a more dominant position, following Carter to the ropes several times to hit him with a series of blows to the body. Landing key combos was a large part of Laurent's strategy going in and that was on full display when he had Carter cornered, as punches flew in rapid succession to Carter's torso, chest and head.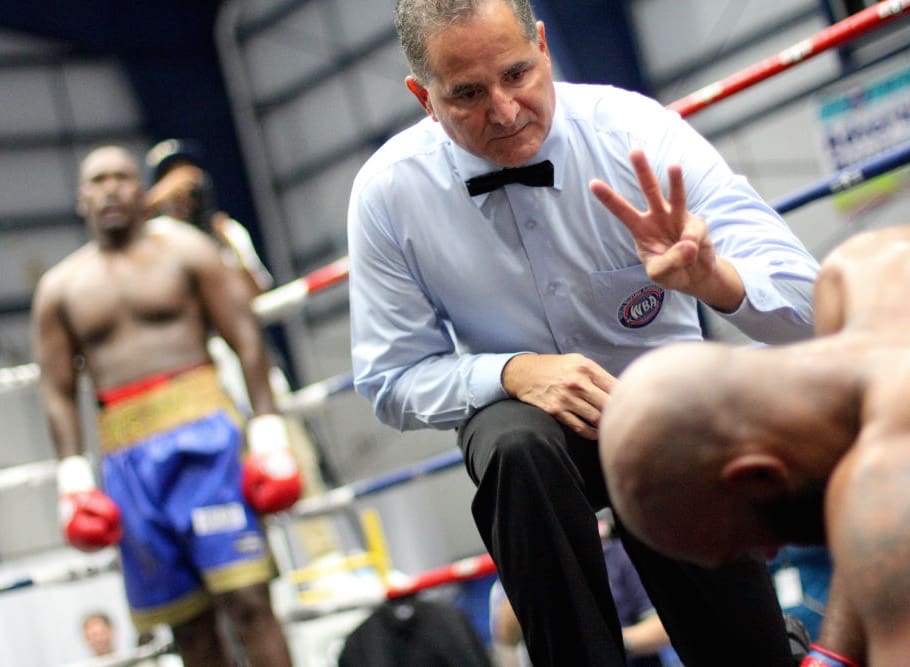 Laurent also continued to use the ring to his advantage, working the floor from the middle to the end. Mid-way through the first round, he again had Carter pinned. After another series of body shots, Carter slipped left to get away, but Laurent followed and connected with a solid right to the face.
From there, Carter stumbled into the ropes and Laurent once again attacked, dropping Carter to the canvas for the first time. The round ended much the same as it begin, with Carter being backed into his own corner and Laurent landing three to the body.
Carter, a former mixed martial arts champion with more than 20 contests under his belt, had spurts of competitiveness, but through the first round, it was Laurent who led in punches thrown and punches landed.
"Give me two jabs and a good right hand," Laurent's trainer and step-father, three time World Boxing Association champion Julian "The Hawk" Jackson, said to Laurent in between rounds.
Laurent continued his press into the second, landing multiple body shots while continuing to be the aggressor. Wherever Carter moved, Laurent followed and had multiple opportunities to once again corner his opponent against the ropes.
In one of those instances, about a minute into the round, Laurent hit Carter with a barrage of punches, including one to the head that put him on the canvas. Referee Luis Pabon got to nine seconds in his count, but Carter was able to recover and get to his feet.
Less than a minute later, and this time in the middle of the ring, Laurent repeated the attack. With the hometown crowd leaning in, he threw a serious of combinations – ending with another punch to the head – that put Carter down for good. Pabon called the fight at 1:59.
"We went into a two and a half month training camp just to get me into the right shape, the right mental capacity, and just to get everything right," Laurent said about his strategy. "I've been working everyday with my dad, we had a game plan, and I was ready, I was sharp. When these events happen in front of your home crowd, you want everything to be perfect and that's always pressure, but this time, there was no pressure."
"I was relaxed, but the wait time was gruesome," he continued. "Just before the weigh in, I didn't think I slept, just waiting to get up, to get on the scale, and before the fight, to put on the gloves. And now, I feel amazing. I can't wait to fight again."