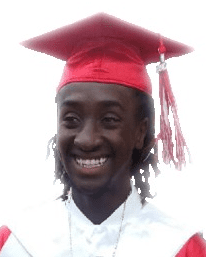 Zion Hasani James of Estate Barren Spot died on Aug. 1. He was 18 years old.
He is survived by his parents: Stephanie O. Nelson and Carl Michael James Sr.; grandparents: Adolphus and Henrietta Nelson, and Evelyn Messer James; siblings: Trevon Nelson, Khalil, Carl-Michael Jr., Nile James, Mikhala, Ciara, Ashanti, Aaliyah and Ajani James; adopted siblings: Najeem, Haakim, Ajani and Lynda Gordon, Kaelan Finney, Nia Sylvester, DeZanie and Dystanie Smalls, Jah'Ky Eugene, T'Cory Jameson, Kelvin Williams Jr., and Kayla and Kesia Williams; special friend, Daejah Scott; and bosom buddies: Yirakmael "Rako" Henry and Malachi Petersen.
He is also survived by uncles: Positive T. A. Nelson, Showayne Modeste, Martial Hodge, Garfield Duval, Winfield, Gutav, Kevin and Wayne James; aunts: Bridget Nelson, Arvian Nelson-Duval, Kimberly Nelson, Shaun Kithcart, Magnolia Fitzgerald, Erna Lynch, Greta Garcia, Laurel Hecker and Jennifer Umaru; great aunts: Margaret Percivl, Mary Simmonds, Patricia Hunter, Gwendalyn Matthew and Jessica Matthew; and great uncles: Ruel Julius, Bernel Thomas, Ruel and Hubert Britherson, Alphonso Matthew, Abrahamson Bobby Matthew, Kennedy Simmonds, Rev. Alson Percival, Joseph Eddy, Lestroy Matthew and Samuel Hunter.
Other survivors include cousins: Matialique Hodge-Powel, Britnique, Martial Jr. and Britial Hodge, Terrence Jr. "Kisam," Tafari, Tywreh and Keturah Nelson, Garian and Ariana Duval, Ayden and Amir Powell, Evandora "Kim" Wigley, Myrna and Donna De-Altier Pickard, Norma Pickard-Samuel, Zamarilyn and Zalysha Pickard-Davis, Confe-Ivette, Alexandra and Ishmael Burgos, Nkosi James, Florine Audain-Hassell and the Audain family, Dr. Arthur C. Petersen Jr.; numerous cousins, other relatives and friends too numerous to mention.
The viewing will be held at 9 a.m. followed by the funeral services at 10 a.m., Saturday, Aug. 19, at the Altona Baptist Church. Interment will be at Frederiksted Cemetery. Friends are invited to Rotary West and Fort Frederik Beach for a repast and time of fellowship after the interment.
Persons attending the celebration of life for Zion are asked to wear festive colors.