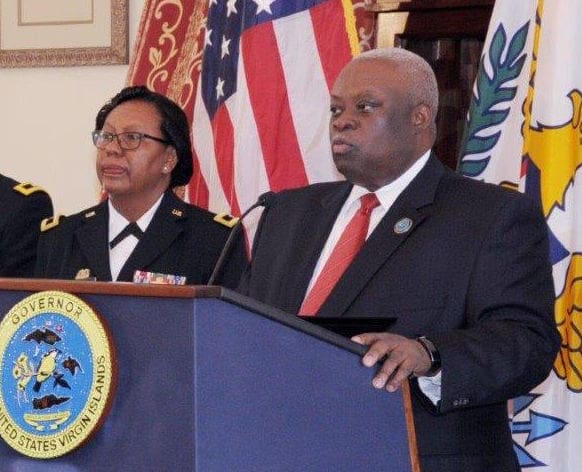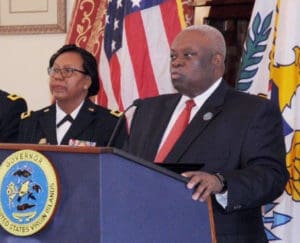 In opening up about sexual harassment and assault issues plaguing the V.I. National Guard, Gov. Kenneth Mapp said Tuesday that he hopes to empower victims throughout the territory by providing them with the services they need while also wiping out what he called "abhorrent behavior" within the organization.
At a press conference on St. Thomas, Mapp said that he accepts the findings of a federal report that pinpoints instances of sexual harassment, sexual assault, and serious allegations of "irregularities in training, recruitment, and operations as well as allegations of criminal fraud" that currently exists within the V.I. National Guard. Mapp specifically spoke about instances in which female applicants "were passed around like property" between VING recruiters before they were accepted into the organization.
Mapp said that in accepting the findings, he would also be accepting assistance and resources offered by the federal government to restore the VING to "optimal performance." Since the investigation results presented in July, Mapp said drastic measures have been taken.
"As a result of this investigation, some persons have lost their jobs," he said. "Others have faced, and more will face, criminal sanctions. Senior officers and other command structures will be transferred into the V.I. National Guard from abroad to assist in correcting these issues, while some members of the local guard have been transferred to the Department of Defense in Virginia for training, while others have asked to retire and are currently making their way out of VING."
Speaking Tuesday, VING's head, Adjutant General Deborah Howell also laid out a phased approach to correcting the problems, which starts immediately and runs through the next 18 months. Assistance will be coming in from the federal National Guard Bureau, which will give the VING the resources needed to "get the job done and provide opportunities for training while I build my bench," Howell said.
Howell was clear when she added, "I will not tolerate sexual harassment or sexual assault, unprofessional or inappropriate relationships, compromised business practices, non-accountability or non-auditability, fraud, or abuse."
After the first 18 months, a five-year monitoring phase will follow to make sure the organization doesn't "regress," Howell said. A confidential process for reporting and filing complaints of sexual harassment will also be established. Finally, the VING will look forward 20 years to strategically determine how the guard can remain the "premiere force" for protection in the territory.
"In spite of this, the V.I. National Guard is still the best organization in the Virgin Islands," Howell said, while assuring the community that her troops are still ready to assist in times of emergency. "There are some in my formation who do not adhere to the principals of military profession and ethics. It is only a few but left unchecked, they will destroy our organization."
Howell triggered the investigation more than a year ago after receiving last June "derogatory" reports from the federal National Guard Bureau about VING's operations, Mapp said. She then requested a formal investigation, which federal officials said Tuesday is still ongoing.
Both Mapp and Howell said they are also seeking to empower victims by providing them with access to the services they need, including legal aid and medical help. There have been reported instances, Mapp said, where victims were unable to even file reports with VING supervisors or commanders for fear of retaliation.
"The only way we can get in front of this kind of behavior is by confronting it," Mapp said. "We have made efforts in sensitizing people about issues of domestic violence, but we have lagged behind on sexual assault. We need to speak out about it and begin to take action while giving victims access to help and holding perpetrators accountable for their unacceptable behavior."
Adding that the "unacceptable behavior" has become "expected" within the organization by members of fraternities or various "social organizations," Mapp also had a strong message for perpetrators.
"If you're accosted as a result of this investigation or become a target and are going to be asked to be held accountable, seek no aid from me because you're not going to get it," he said.
Howell and the governor also encouraged victims to speak out. Help can be found by emailing ngb.sbc@mail.mil or by calling (340) 712-7711 on St. Thomas or (340) 712-7728 on St. Croix.