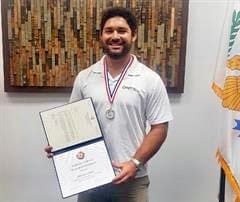 Del. Stacey Plaskett (D-VI) recently presented the Congressional Award to St. Thomas native Christopher Cilliers for his efforts to support the people of Haiti, Guatemala, and the Dominican Republic when they were in great need of outside support.
Cilliers is an operations engineer with Seven Seas Water. He has done volunteer work in Haiti, the Dominican Republic, and Guatemala through the St. Thomas Dutch Reformed Church.
Cilliers received a certificate and a silver medal. The Congressional Award is open to Virgin Islanders ages 14 to 23 and is non-partisan, voluntary, and non-competitive.