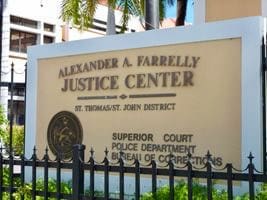 An attorney representing a federal immigration officer accused of rape told a Superior Court judge Monday he wants restrictions on how much time before trial the prosecution can present new evidence.
But Judge Denise Francois said she wasn't ready to decide. The discussion came up at a pretrial hearing for Roy Rogers, 53, a supervisory and detention officer for Immigrations and Customs Enforcement.
Rogers faces multiple charges connected to allegations that he sexually molested four female minors. He was arrested and charged in March 2016.
Superior Court Judge Denise Francois set jury selection in the case for Oct. 2.
At Monday's hearing, defense attorney Clive Rivers told the judge he was concerned that lawyers from the Justice Department might try to slip in some last minute discovery evidence prior to the start of the trial.
"I don't think it's fair to my client to receive discovery up until the trial," Rivers said.
But Assistant Attorney General Natasha Baker told the judge it should be permissible, up to a point.
"As long as we don't have something in the office we're not turning over to the defendant. I don't think the court can make a determination about evidence that's still coming into our office," Baker said.
At that point, Rivers suggested the prosecution might be holding something back.
Baker said all discovery evidence to date had been turned over, including recordings. When the defense said they never received them, the prosecutor bristled.
Francois cautioned Baker not to overreact, but the prosecutor told the court the DVD with the evidence was delivered to Rivers and she knew that because the defense attorney called Justice to complain about the way it was delivered.
Rivers then said he remembered the evidence had been turned over to him.
After the hearing Baker said she couldn't comment on the nature of the recordings.
"It was filed under seal, so that's not available to the public," she said.
Francois told the defense she would rule on admissibility of evidence as the circumstances dictated.
The judge also denied a motion by the defense to reduce Roger's bail. Bail of $175,000 had been set after the ICE officer was taken into custody at the end of an hours-long police standoff on March 7.
Authorities said police were called to the ICE detention facility on Crown Mountain where Rogers was threatening suicide and holding a gun to his head.
Over the course of the standoff, court records said Rogers turned the gun on a police negotiator.