The Department of Property and Procurement plans to lease out more government property to make up for a recommended 14 percent cut from the General Fund in FY 2018, the department's commissioner Lloyd T. Bough, Jr told senators Wednesday.
DPP was one of three entities whose representatives testified before the 32nd Legislature's Committee on Finance Wednesday as a part of ongoing budget hearings for the upcoming fiscal year. Property and Procurement manages the government's commercial real estate properties, its central stores and warehouse, its vehicle fleet, its print shop, all outside contracts for executive branch departments, and its leases for office space.
DPP's recommended general fund appropriation for FY 2018 is $2.73 million, which is $453,000 less than FY 2017. The department plans to offset the cut with a projected 18 percent increase from the Business and Commercial Properties Revolving Fund, a gain of $385,000. The department projects a total of $2.5 million in funding in FY 2018 from the Business and Commercial Properties Revolving Fund, which is generated from leased government property.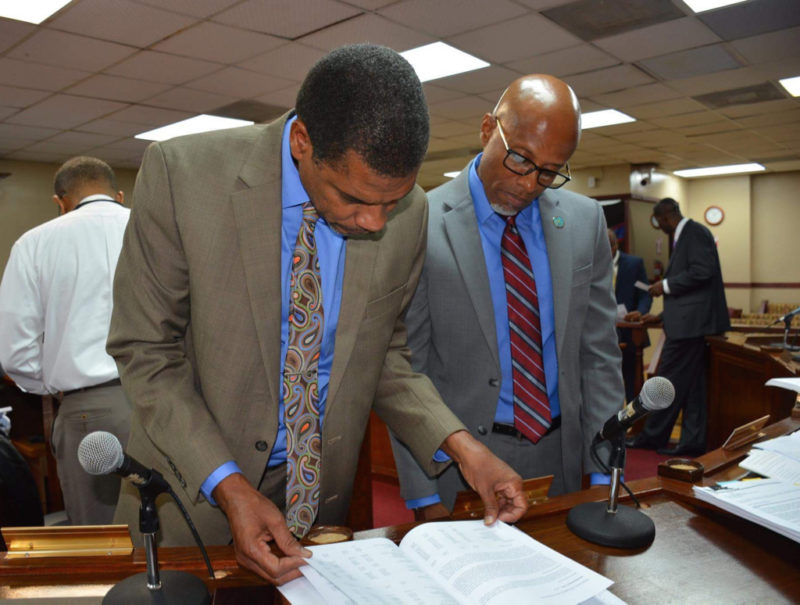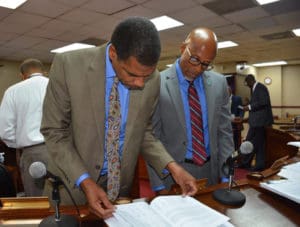 The department expects to collect more than $4.6 million from the 148 business and commercial leases under its management by the end of FY 2017, and according to Bough the number of leases will rise in the upcoming fiscal year.
Due to the department's strategy for increasing its revenue through leases, Bough said it will continue to oppose any proposals to sell off currently unused government property as a one-time quick fix to the V.I.'s budgeting woes.
"With plans to increase active leaseholds, the department needs to maintain its existing inventory of land so that we do not limit or exhaust our ability to lease these properties to increase revenues in the future," he said.
"We believe in the long-run the government properties should remain clear and unencumbered and should be used for the development of local businesses and the generation of income as originally intended," Bough continued.
At one point during Wednesday's hearing Sen. Janelle Sarauw suggested that she favors the outright sale of properties the "government has no intention of occupying." But more important to Sarauw was moving department offices that are currently paying out millions of dollars in rent every year to government-owned property.
"In the dire financial constraints that we're in now, I believe that we have to get the ball rolling in addressing us moving to property that we own," Sarauw said.
When Sarauw asked Bough to be candid about his perception of how the V.I. Government uses its properties, he appeared to hesitate before saying, "How should I put this – we rent way too much outside of government."
DPP manages 117 leases for government offices and storage at an annual cost of $9.5 million, or about twice as much the government makes leasing out its own property.
Bough said bringing more government offices onto government property is a priority that the department "talks about all the time." But a lack of staff appraisers and surveyors at DPP and limited government funds for capital projects, has made the process slow, according to Bough.
In addition to its appropriations from the General Fund and the Business and Commercial Properties Revolving Fund, the FY 2018 Budget for DPP recommends approximately $170,000 from the Indirect Cost Fund, $31,000 less than FY 2017. Funding from various local non-appropriated funds is projected to amount to $2.3 million, about half of what was generated in FY 2017. That difference is attributed to a decrease in government activities due to austerity measures.
DPP also expects to receive $6.8 million from a miscellaneous appropriation from the Office of Management and Budget. That sum covers insurance for the government's $1.1. billion worth of insured assets. Insurance policies bought by the government have declined in price over the last several years due to a lack of claims, but Bough said that a natural disaster in the territory could send them up again.
Another aim of DPP in FY 2018 is to continue downsizing the government's vehicle fleet to meet Gov. Kenneth Mapp's 2015 mandate that the fleet be reduced by half under his administration. In FY 2017, government vehicles were reduced by 139, according to Bough.
At Wednesday's hearing Sen. Nellie Rivera-O'Reilly suggested the government stop its practice of supplying vehicles to the executive staff of its various departments.
"I don't think any top official in any agency should have a car," Rivera-O'Reilly said. "I think it's expected that you come to the table with an education and with your own resources. Drive yourself. The cars need to be at the front line of services."
The Committee on Finance also heard Wednesday from representatives of the Bureau of Internal Revenue and the V.I. Taxicab Commission.
The IRB's requested FY 2018 Budget of $11.8 million, all from the General Fund, is a reduction of nine percent from FY 2017.
Senate Majority Leader Neville James said he would not support that recommendation because it contradicts the stated aim of the governor to beef up IRB efforts to collect delinquent taxes. The IRB, James suggested, should be "an exemption to the rule" of across the board cuts in FY 2018.
"It flies in the face of what the governor said. He was big in boasting 'we coming after you.' That's what the governor said – his words, not yours."
IRB's FY 2018 requested budget includes $6.65 million for personnel services, $2.8 million for fringe benefits, $1.9 million for other services and charges, $85,500 for supplies, $40,000 for capital outlays, and $287,000 for utilities.
The bureau pays more than $800,000 annually in rent and storage, and according to testimony from Director Marvin Pickering replaces about one third of its computer hardware each fiscal year, which accounts for much of the capital outlays portion of its budget. IRB's FY 2018 Budget also includes $522,000 in contracts and projects $1.26 million in federal grants.
Pickering said no 2016 tax refunds have been paid as yet, but over 9,500 returns with refunds totaling $21.6 million have been processed and are awaiting payment.
The V.I. Taxicab Commission, a semi-autonomous agency that oversees the operations of the territory's taxi services, is one of the few entities that may see an increase in its budget in the next fiscal year.
The Taxicab Commission's requested FY 2018 budget is $950,000 from the Taxi License Fund, a fund generated by revenues from taxi examinations and badges, sale of medallions, issuance of business licenses, title searches, recording and releasing of liens, miscellaneous forms, publications, penalties and citations. In FY 2017, $856,000 was appropriated for the commission.
The Taxicab Commissions requested FY 2018 includes $568,500 for personnel services, $249,000 for fringe benefits, and $30,000 for supplies.
Present at Wednesday's information gathering hearing were Sens. Rivera-O'Reilly, Sarauw, James, Kurt Vialet, Marvin Blyden, Dwayne DeGraff, Brian Smith, Novelle Francis Jr. and Tregenza Roach.