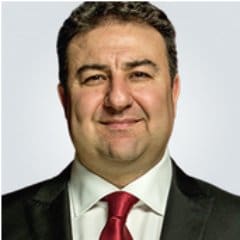 At a time of heightened political focus and continued misconceptions about Americans of Arab descent, a groundbreaking one-hour documentary, "The Arab Americans: A Thousand and One Journeys," will highlight their rich contributions to the American culture. The film will premiere on WTJX/PBS Channel 12 and PBS stations nationwide, beginning in August 2017 . It will air on Channel 92 at 8 p.m. on Friday, Aug. 4; it will re-air on Channel 12/90 at 9 p.m., Tuesday, Aug. 15.
The film presents a previously unexplored chapter of American history, and it ties the rise and tribulations of this often misunderstood and maligned immigrant community to historical markers. In his inaugural debut as producer and director, Abe Kasbo's timely new film vividly paints a portrait of the Arab-American immigrant experience through the inspiring stories of extraordinary people who have come to America in pursuit of the American Dream.
They include: Sen. George Mitchell, Presidential Candidate and consumer advocate Ralph Nader, actor Jamie Farr, Pulitzer Prize-winning reporter Anthony Shadid, White House correspondent Helen Thomas, actor and founder of St. Jude Children's Research Hospital Danny Thomas, General John Abizaid (retired, four star), Indy500 winner and racing legend Bobby Rahal, pollster John Zogby, former West Virginia Congressman Nick Joe Rahall, and Washington D.C. restaurateur and activist Andy Shallal, among other notable personalities.
"The Arab Americans" places the Arab-American immigrant experience within the context of American history, telling the relevant yet untold story of almost 150 years of enrichment of the American fabric by immigration from the Middle East, North Africa and the Arabian Peninsula to the United States. The documentary explores early and multiple waves of immigration, along with the tremendous impact of 9/11 on the Arab American community as well as its challenges and dreams in light of the zeitgeist.
"I grew up admiring America from Aleppo, Syria, as a child, and now as an American citizen, I am fortunate to bring both unique perspectives to this documentary," said Kasbo. "The Arab-American experience is simply the American experience, and we can only complete our national story and identity when we know and understand everyone else's story. It's a story that needs to be told today more than ever."
This program is underwritten in part by Asfour Clothing Corp., Asfour Department Store, Men's Corner, FoodTown, Plaza Extra West and Ashely Home Furnishings.