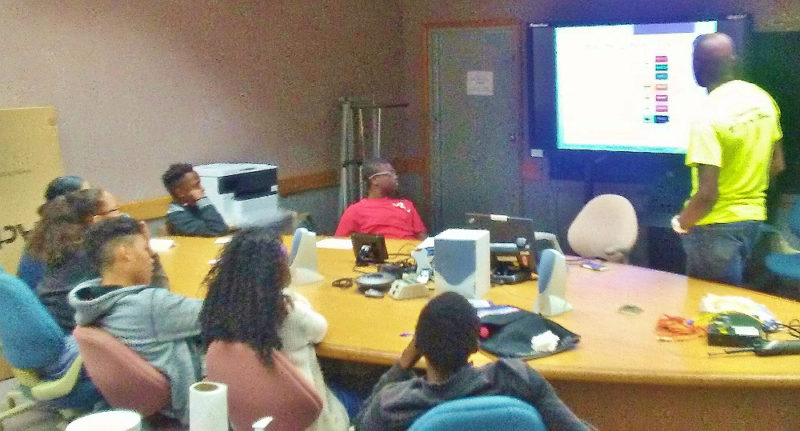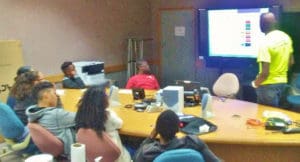 Virgin Islands Next Generation Network (viNGN) technician Kevin Maynard recently provided a workshop for students on the Open Systems Interconnection (OSI) model for the Life Skills and Career Exploration Computing and Computer Science Summer Academy. The workshop for secondary students was held on Tuesday, July 25, at the Curriculum Center, Kingshill, St. Croix.
The OSI model is a conceptual model that characterizes and standardizes the communication functions of telecommunication or computing systems without regard to their underlying internal structure and technology. This allows for the quick connecting and exchanging of information whether a person is using an Apple (Mac) or Windows-based computer, visiting a Web site hosted on a Unix server, or surfing social media on a device running either Android or Google's Chrome Operating Systems.
Maynard said, "The way I see it, viNGN and the whole broadband initiative was brought here for our youth to have access to worldwide resources. The quicker we can get them to appreciate the technology at our doorsteps, the more they will want to have it in their homes."
Academy' program coordinator is Everett A. Ryan Ph.D., who provided participating students with exposure to a variety of local information technology and computer science professionals during the camp, held from July 5 to Aug. 1.
"It was informative, and the students enjoyed it," Ryan said. "The goal of the program is to develop students' familiarity, knowledge and skills with occupational fields associated with computing and computer science while concurrently fostering life skills development and career exploration. Among the technology-based activities, the participants develop knowledge and skills in computational thinking, coding, HTML and application software."
The students also gained skills in business etiquette, netiquette, teamwork, problem solving and decision-making, interpersonal skills and understanding the interview process, both as an interviewer and interviewee.