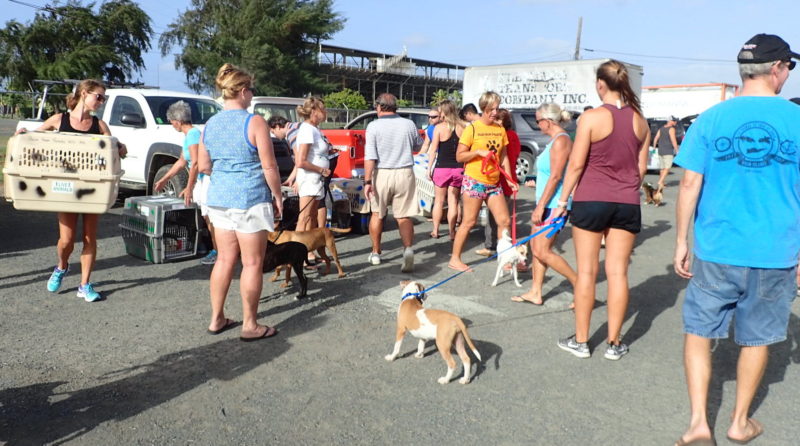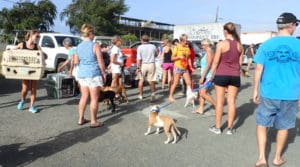 While it wasn't Dunkirk, the evacuation of more than a dozen dogs from the St. Croix Animal Welfare Center Tuesday was epic in terms of animal rescue efforts and volunteerism.
Paws VI's Alison Sobeck, the AWC, Island Dog Rescue of Virginia Beach and their volunteers began weeks ago coordinating the airlift with Air Cargo Carriers to transport 17 dogs from the St. Croix airport to Puerto Rico.
Larger dogs from the AWC were selected because they are unable to fly in the cargo hold due to the heat or fit under the seat. The Freedom Flight literally gave the pups a new lease on life.
When the canines landed in San Juan, Sobeck guided them through U.S. Customs and put them on connecting flights to five stateside locations where partner rescue organizations await to find them permanent homes.
The dogs were moved from AWC last week into foster homes to make room for more homeless pets, and starting early Tuesday morning, people arrived at Flemings Transport to begin the intricate maneuver of loading the aircraft.
First, volunteers carried their crates, color-coded according to destination, to the loading dock, while others walked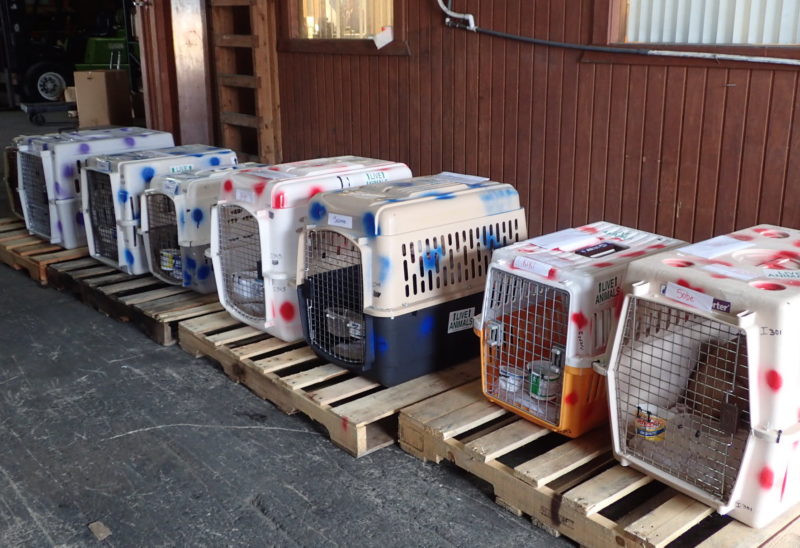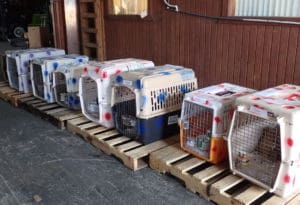 the dogs. Then the pooches were led into their kennels according to who had the earliest flights from San Juan. Sobeck put dogs on flights to New Jersey, Illinois, Massachusetts and Washington, D.C. When they arrived at their destinations, nine rescue organizations claimed the dogs to place them in homes in their area.
"I've known this dog an hour and I'm already crying," said one volunteer, watching the pups being loaded.
Wet eyes and sniffles were observed (and experienced) as Sobeck, Louise Foss and Diana Baker, Paws VI volunteers, hugged Elena, a large, brindle mix, who had been at the animal shelter the longest, since February.
Barry Fleming, of Flemings Transport, and his crew then used a forklift to place the animals into Air Cargo's Shorts aircraft. Only one dog resisted, escaping his crate, after it was loaded into the plane. After he was secure, Nikita Lukovnika, a member of the flight crew, took the dog for a walk while his container was repaired.
Wess Tester, a volunteer who controls inventory, said the 17 crates used to transport the dogs are owned by Paws VI and most will eventually find their way back to St. Croix. American Airlines, Paradise Freight and VI Cargo have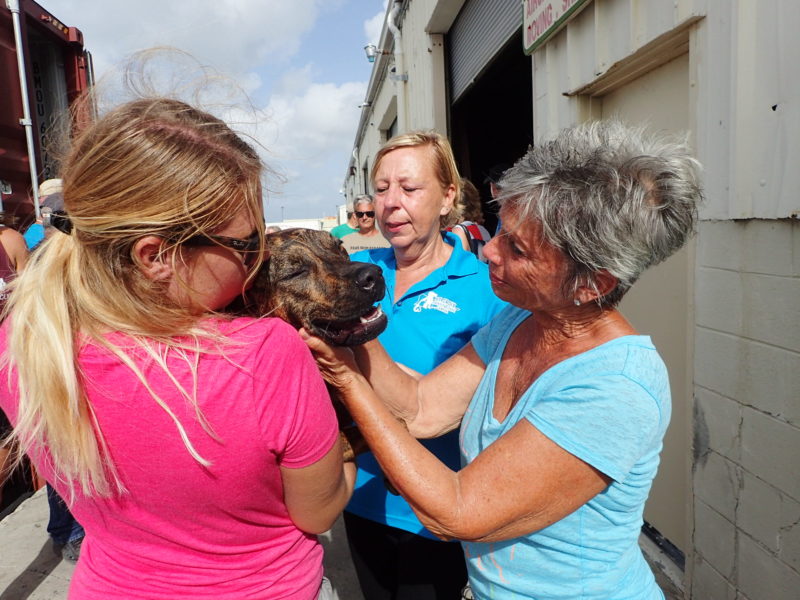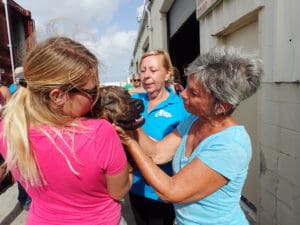 agreed to return them, free of charge, and Quality Electric Supply allows crates to be stored in their Florida based container until someone picks them up – usually Tester.
The plane took off around 9 a.m., and Sobeck traveled with the pooches, lugging a bag filled with newspapers, food, water bowls, sheets, Sharpies and plastic ties. She notified the Source in the afternoon that all the dogs made their connecting flights North.
Paws VI is a mixed breed, having merged with Paws from Paradise last year and works with the AWC and other rescue groups.  Paws VI, a 501(c)(3) organization, has been able to send an average of 45 pets a month to state homes and rescues, up from just a handful in previous years.
Athena Permutter, who administers Paws VI, said they will book the flight with Air Cargo Carriers again. They will continue to move 45 pets a month and attempt a big flight twice a year. The organization's goal is to educate people about spay/neuter and humane treatment of animals – not to remove them all from the island, Permutter said.  Even after 17 dogs were removed from the animal shelter a week ago, the shelter is again full.
Air Cargo Carriers, headquartered in Milwaukee, Wisconsin, transports cargo throughout the Caribbean, but never a pack of large dogs, said Lukovnika.
"I think it's great, fantastic. It makes the job a little more meaningful," he said, adding that he has two dogs.
A form for travelers who wish to accompany a pet to its stateside destination can be found at healingpaws.vi and donations are accepted at the Paws VI Facebook page.