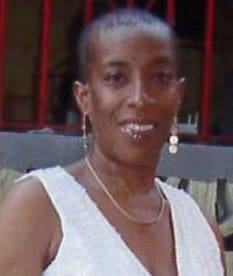 Colleen Marie Francis-Carter, also known as "Cool Cat," "Hippity Hop" or "Cuts," of Estate Grove Place, died on July 26, at the age of 53.
She is survived by her spouse, Dennis A. Carter; daughters: Symone and Syrena Carter; grandmother, Keturah Francis; adopted mother, Arita George; mother-in-law, Angelita Encarnacion; father-in-law, Elroy Bates Sr.; aunt, Josephine Francis; great aunt, Inez Hinds; uncles: Alfred, Lano and Ted Francis; great uncles: Ivan Goodridge, Ignatius and George Goodridge; brothers-in-law: James Bates Sr. and Elroy Bates Jr.; sister-in-law, Coretta Bates; and guardian angel, Sharon Williams.
She is also survived by special friends: the ladies of Zeta Phi Beta Sorority, Melinda Williams, Mr. and Mrs. Austin Williams, Valerie Greenidge, Ashel Belardo, Rita Dawson, Joanna Brow, Migdalia Velez, Lenore Thomas, Jackie Hurley, Monifa Carrillo, Tina Canada, Myrna Hospedales, Connie Francis, Clement Samuel, Elroy and Carmen Clarke, Denise Daniels, Ursula Javois, Michelle Branch, Randall Knight, Burton Petersen, the St. Croix Central High School staff and students, and Raymond and Lisa Williams.
Other survivors include cousins and other relatives: Michelle Richards, Sharon Bressendorf, Sharon Bryant, Carron Anderson, Dr. Robin Brannigan, Otis Brannigan, Honorable Daryl Donahue, Bianca Jones, Janice Ford, Ivan Goodridge, Denise Hinds-Roach, Rowland Hinds, Raymond Hinds, the Encarnacion family and the Gordon family; as well as other relatives and friends too numerous to mention.
The viewing will take place at 9:30 a.m. followed by funeral services at 10:30 a.m. on Monday, Aug. 7, at St. Patrick's Catholic Church, Frederiksted. Interment will be at Frederiksted Cemetery.