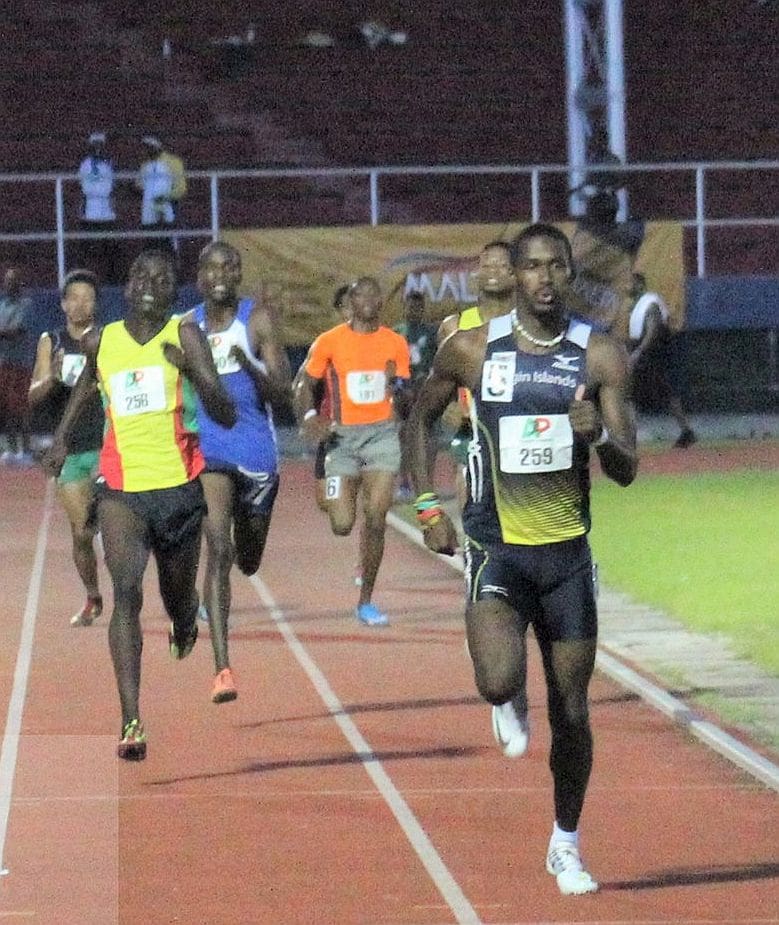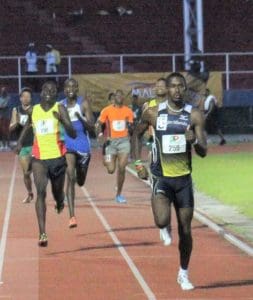 Malique Smith, a member of the St. Croix Track Club and an honor student/athlete of the University of Arkansas Pine Bluff, is coming into his own after showing great promise as a runner on the track, in cross-country and road running since he was a child.
He earned all-conference honors on the track and in cross-country at UAPB his freshman year where he followed his teammate of SCTC Ninfa Barnard, the V.I. female 800m record holder. Smith has been consistent and versatile throughout his indoor and outdoor seasons during his sophomore year; he seems to have found his distance, the 800m, a blend between that of his mother Mireille, the All-American and 1992 NCAA 800m Indoor champion at Eastern Michigan University, and his father, who was primarily a 400m sprinter, a 1992 Barcelona Olympian and a member of the 1991 V.I. Pan Am Games 4 x 100m relay team in Havana, Cuba, — the only V.I. Pan Am track medal it has won to date.
In his first international competition as a senior athlete, Smith traveled to Guyana, South America, last week for the second annual Allain Pompey Invitational, a competition with 17 countries competing. He led the field of all Guyanese the entire 800m race and held them off for the win in a personal record, 1:51.90; Samuel Lynch of Guyana was second in 1:53.25; Quincy Morain of Guyana was third in 1:54.25. Smith's first 400m split was 54.97. He said in the post-race interview, "I knew the whole of Guyana was cheering against me… I knew I had to concentrate, remain calm and focus… when we came down the stretch I didn't know where he was so I just worked harder and held them off."
Thanks to grants from the Virgin Islands Olympic Committee (VIOC) and the V.I. Track and Field Federation (VITFF), Smith followed an invitation to compete in the "Last Chance" meet in Freeport, Bahamas, on Saturday and a chance to take a shot at going under the magic 1:50.00 second barrier and maybe even the V.I. National Record of 1:49.15 set by Seymour Walter in Indianapolis, Ind., June 9, 2012.
In Freeport, the race was more tactical as Smith trailed the leaders for the first 200 meters. After regaining the lead, he lost it in the final 100m sprint to take second behind Jo-Wayne Hibbert of Jamaica 1:52.04, Smith ran 1:52.25 in a photo finish. His performances over the last two weeks hopefully sets him up for the 2018 CAC Games as a finalist.
Note:
1] in the absence of availability to track and field facilities in the territory, athletes have found it necessary to travel internationally to compete. In the case of athletes living in the territory training conditions have been limited to non-standard surfaces.
2] VITFF extends its congratulations and appreciation to and of those athletes who have made extraordinary sacrifices in meeting difficult challenges including grueling college seasons to qualify for and/or represent their country this season in the variety of regional and world championships this summer.
3] several V.I. National Track and Field Team Members are eligible and qualified for the World University to be held in Taiwan this summers. VITFF has submitted this list to the V.I. University Sports Federation for consideration. The V.I. has had success in this competition to include: the gold medal in 2013 in Russia in the 110m hurdles won by Eddie Lovett and then the NCAA National Champion Indoor hurdler at NCAA National Team Champion the University of Florida. Lovett has qualified for and will compete in the IAAF World Championships in London, England, on August 6.